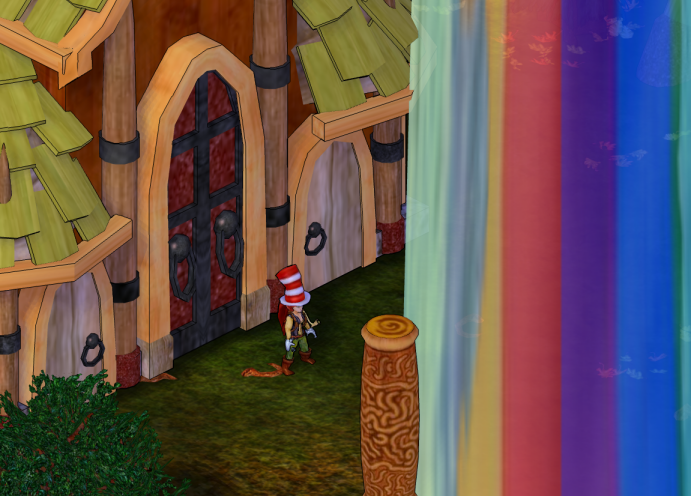 We've been developing, and here's what's new.
New Implementations
-----------------------
If a player has worthy, dead, characters (INT 50+, LP 100k+) he may now as one of them visit The Hall of the Gods by exiting the character creation room using the Rainbow now appearing to the left of the starting pool. The Hall of the Gods lies in the midst of a field of neverending battle. Weapons and armor of every kind lie scattered, and death is a passing condition in this twilight realm. In the Great Hall itself a mighty swine hangs ever roasting, and when you partake of its flesh your combat relevant stats (strength, agility, constitution, unarmed & melee) are instantly buffed to wherever you want them. Eating of the swine also restores your stamina and health. Feast and do battle until the End of All Times!
Players may now build a Great Hall
You can now pave and build with Cat Gold, which generally counts as stone.
Added "Shield" block.
Added "Parry" block.
Key Fixes
-----------------------
Fixed a bug with paving preventing caveins.
Caveins no longer damage objects with soak
All fights are now initiated with a cooldown active. Initiating a new combat relation gives you a cooldown. The defender has a slightly lower cooldown than the attacker.
"Chop" now requires one IP.
Small Fixes
-----------------------
Fixed a bug causing "Dawn Breaking" experience to trigger during dusk as well as dawn.
Fixed a bug with Ranger's Cape not setting hair properly.
Fixed a textual error in the description for slave keys.

As always, if you liked what we did here: Support the patch.
Today's Patch Item, for the fair price of $5, is the "Cat Hat".
Store Description wrote:

$5

I will not let you fall.

I will hold you up high

As I stand on a ball.

With a book on one hand!

And a cup on my hat!
Enjoy!