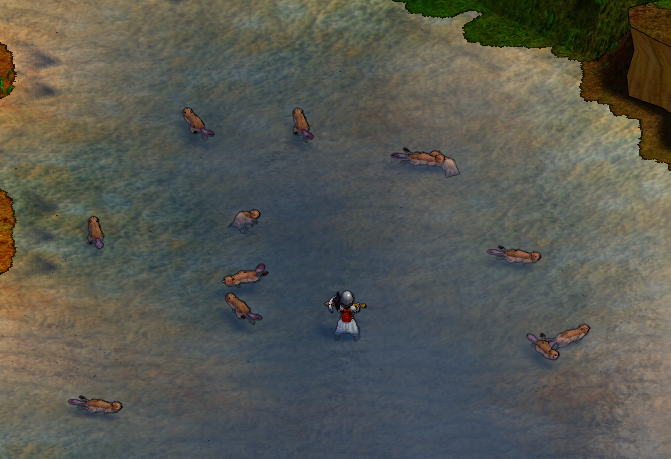 New Implementations
-----------------------
Added Beavers. Mostly harmless water dwellers.
We heard you like permissions, so... added a permission to allow or disallow permission sharing for villages. A village can now set, per group, whether members of that group are allowed to share village permissions with their party or not. We considered just removing permission sharing for villages instead, as this seems more and more marginal, but, meh.
Combat Changes
-----------------------
Increased the cooldown on "Dash" from 60 to 80.
Capped the Cooldown on "Take Aim" at 120.
"Think" now, analogous to "Take Aim", has a longer cooldown the more IP you have. Its cooldown is capped at 160.
Reduced the damage on "Takedown" from 50 to 40, and increased the cooldown to 50 from 45.
Fixed a bug with "Combat Meditation" by which a timer wasn't set properly, causing the buff to gradually deplete entirely if used once.
Key Fixes
-----------------------
Fixed a bug by which any Realm member could destroy authority objects.
Small Fixes
-----------------------
Added a free Gilding slot to the Druid's Cloak, and some stat bonuses.
Put some breaks on the ability to send crazy messages in Realm and Village chats. Previously we had only prevented this for the open chats (Area, PM, &c), but since we had a report we figured it was a nice thing and had to go.
You can now shift-tab in the kin menu without freezing the client. Reported here.
Drinks should no longer be exempt from the general satiation logic, i.e. as soon as you have four satiations below 50%, the lowest of them is reset to 100%.
Advance Notice
-----------------------
We are considering a couple of changes to PvP which we figured we'd give you heads up on, to allow you to voice your concerns, should you have them, namely...
We have considered getting rid of the entire concept of claim shields, and instead replace it with the inverted concept of a siege bubble, constructed by the attacker. Loosely speaking the attacker would designate an area of effect in one way or another, and after some condition completes -- the passing of time, attacks against the target, or both -- the area under the siege bubble would then become available to attacks and destruction. This has the potential upside of removing the various game-arounds and exploits associated with varying layers of overlapping claim and village shields, use of multiple villages and/or claims to acquire more shields, &c. There are plenty of moving parts here which make the exact formulation an open question, but feel free to opine on the general direction.
We have considered making it so that you are returned to your Hearth fire on knockout. This could make combat more accessible and forgiving, could allow for less paranoid player interaction, could allow for casual strolls outside your walls without complete fear of death, could remove alt farms to supply a steady stream of fresh cannon fodder, could make n00b ganking less of a thing, and could perhaps allround make the game less autistic and more fun. On the other hand the biting edge of cold hard pixel death could be dulled. Do note that you would still die as per usual if you actually managed to reach zero HHP.
... let us know what you think.
In the Pipe
-----------------------
We have been a bit unsure on where to take development. Feel free to opine on what you'd like to see change/improve.
Push-out is still a thing, and we have begun considering various client optimizations as well.
Enjoy!