We've been developing, and here's what's new.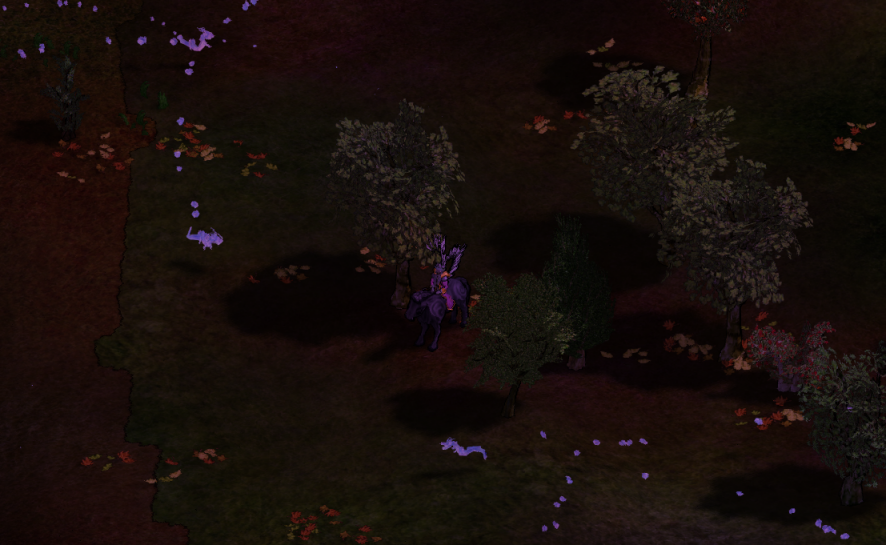 New Implementations
-----------------------
Added Opium. Poppies now have a new growth stage, beyond the last flower stage, which has no graphical distinction (i.e. you won't know when you've hit it until you harvest), and which is fairly random in terms of when it is actually reached. If you harvest a poppy plant in this secret stage, you receive a poppy pod instead of a poppy flower. Poppy pods can be eaten as are, but can also be dried on a herbalist table to dried poppy pods. Dried poppy pods can be ground to poppy grist, which can be boiled in a cauldron and thus reduced to opium. Opium can be smoked to good effect:


Whenever you smoke opium, you receive a buff "Chasing the Dragon". For each puff of the pipe, the buff accumulates a certain amount of wound points. You can see on the buff how many points of damage it has accumulated.
As the buff ticks down, there is a chance to convert wound points accumulated in the buff into healing of certain wound types, namely: Infected sore, Wretched Gore, Concussion, Blunt Trauma, and Punch Sore.
When the buff is empty -- i.e. has ticked down entirely -- the remaining accumulated wound points -- i.e. those not used for healing -- are gradually applied as a new wound "Dragon Bite", which itself heals over time.
The buff can only hold a certain amount of wound points, and as you begin approaching that amount, some damage is applied directly as a "Dragon Bite".
Also made it so that the poppy seed payout is lower than base if poppies are harvested as flowers, and higher than base if they are harvested as pods.
There is another little mechanic involved, but you'll get to discover that one for yourselves.
Note that previously existing poppy fields will not reach the new growth stage, and that you'll have to replant them.
Please be advised that smoking opium can kill your character. Proceed carefully to find a suitable dosage!

Added stockpiles for everything... or at least for metal nuggets.
Added "Adder Crown", crown.
Added "Gilded Nautilus", curiosity, cup, symbel item.
Added "Fat-Braised Veg", food.
Added "Cornbraid", gilding.
Credo
-----------------------
Nomad:

You have grown weary of familiar surroundings, or perhaps your feet never stopped to rest? Either way you find yourself now a wanderer in tought and the vastness of open space, ever seeking out new and farther places, and always striving toward the next horizon. Seven times you have walked the Hearth over wide, and three over tall, and many are the strange and wondrous sights you have seen in it, yet there remains always an immensity of the unseen, beckoning you onward to take that next step. The Nomad calls no place home, yet is also always at home in his solitudes of nature and travel, accompanied perhaps only by wild horses and beasts of burden. It is said that when the Old Gods were young, they too walked distances beyond reckoning. Embarking on the Nomad's Journey promises...




Exploration +15
Survival +25
One extra column of inventory space.
Pony Power of Horses lasts longer.
One extra row of inventory space.

Nomad depends on Fisherman, Forager, and Hunter.
Key Fixes
-----------------------
Towercaps now work as minesupports. They develop a support radius gradually as they grow up, and have, when fully grown, the equivalent radius of a (wooden) Mine Support. As with normal Mine Supports, they can be safely removed if they have never prevented a cave in.
Nerfed Wineglass a bit as Symbel item.
Small Fixes
-----------------------
Fixed a small bug by which Credo quests to level up failed to update properly.
Fixed a bug by which Mystic Credo quests would still send you to underground quest givers.
You can hang torches on walls, but that unfortunately will extinguish them. Hoping to fix that at some point.
You can now put water flasks on your toolbelt. Suggested here.
In the Pipe
-----------------------
UPDATE YOUR CLIENTS
... if you want the Opium effect to work properly.
Enjoy!