We've been developing, and here's what's new.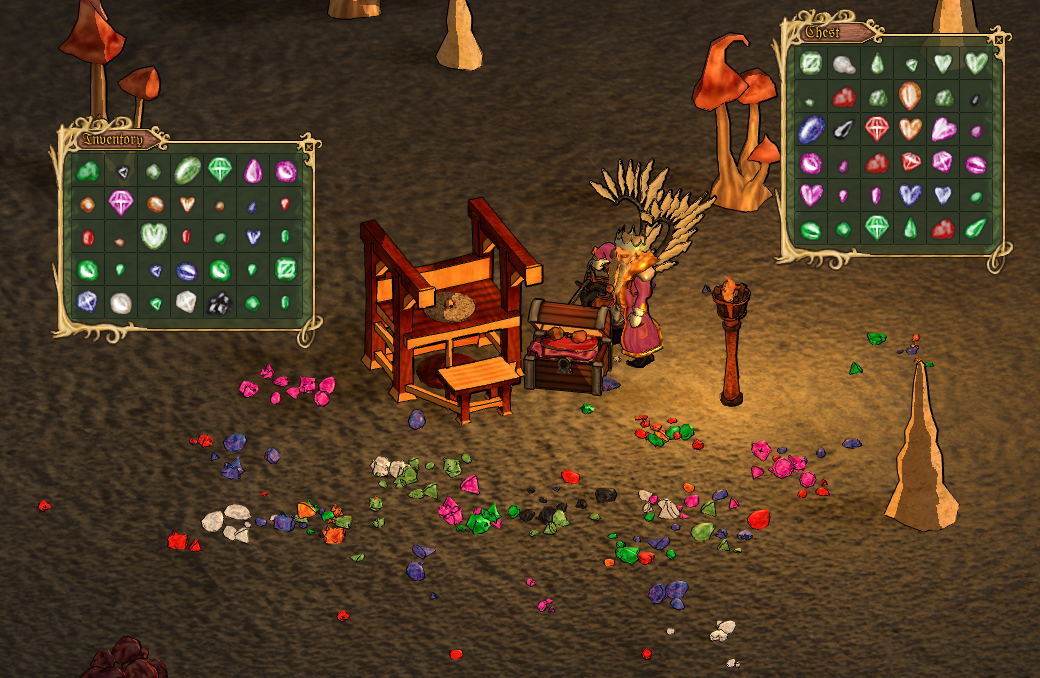 New Implementations
-----------------------
Implemented Gemstones. As you mine, you may encounter various gemstones, in various sizes, and in various cuts. There are six sizes -- tiny, small, fair, large, grand and jotun -- and six types of cut -- rough, smooth, cabochon, pear, heart and brilliant.
Gemstones get better the larger they are, and the better their cut. The best combination is a Jotun Brilliant Gemstone, and the worst is a Tiny Rough Gemstone. A Tiny Brilliant Gemstone is generally as good as a Jotun Rough Gemstone.
You may cut gemstones at a Gemcutter's Wheel. When you do, you have a chance to improve the cut of the gemstone one step, i.e. from rough to smooth, from smooth to cabochon... to pear, to heart, to brilliant. You may also fail the cutting, which will reduce your gem one step in both cut and size, with some random chances of getting additional smaller gems as shards.
Your chance to succeed when cutting increases with all the values presented by the gemcutting recipe, i.e. dexterity, perception, psyche, masonry, and lore. The Gemcutter's wheel softcaps the quality of the gems.
The Gemcutter's Wheel requires a Gemstone to build, and cannot be used to cut gems of a larger size than the Gem that was used to build the Wheel.
The primary use of gemstones is as Gilding items, in which capacity the various cuts, and sizes, and types, all provide their own distinct bonuses, but they can also be studied as curiosities.
Rings -- and, for now, only rings -- can be gilded using Gemstones. We want to expand that to clothes as well, but want to contemplate a bit on how.
Gems may be entirely bonkers in many ways. Rest assured that a Jotun Brilliant Diamond is a rare, but nice, thing.
There are, of course, several types of gems, but we'll -- beyond the obvious ones -- leave those to be discovered.
Small Fixes
-----------------------
Pumpkin lanterns should no longer decay on claims. Reported here.
In the Pipe
-----------------------
Small patch as we have also been working on that something more significant hinted at in the last couple of patches, which might (still) be a few weeks in the making. Will (still) hopefully be cool, though!
The main dev focus is the client rendering rewrite.
I'm (still) considering following up on this suggestion, and make palisades bashable if the claim shield is down. Let me know what you think!
We are considering, especially so in light of this patch, but regardless, introducing diminishing returns when slotting the same item type in several pieces of clothing (i.e. bear tooth in everything). Let us know how you'd feel about that.
A bit rushed, so there are a couple of things missing here in terms of graphics, sound when crafting, stockpile for gems, cheaper rings made of wood and stone, &c. Will iterate!
Very safe to say that no single patch ever pushed this many new items.
Time to... like us on Facebook?
Enjoy!