We've been developing, and here's what's new.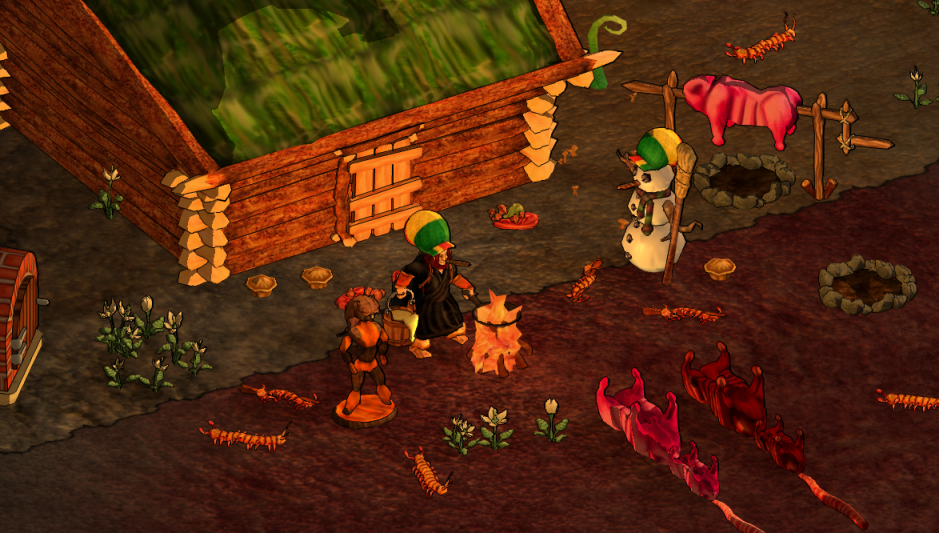 New Implementations
-----------------------
Added code support for auto-generating input types. More and more -- due to quests asking for strange things, and whatnot -- it has become the case that all things need their own input type, i.e. an internal concept used in determining the identity of items. The immediate consequences for you, the player, should be that...


All items should be possible to buy and sell at barter stands.
You receive discoveries, and LP, for pretty much everything the first time you craft or otherwise acquire it.
The Ancestors should ask for fewer gemstones, as we took some time adressing the problem, of them requesting specific gems, specifically. Do report strange requests for, idk... store items or other things that may seem unintended.
We may have introduced strange textual issues in descriptions, quest texts, &c., or perhaps more serious cases of gender confusion. Either way keep an eye out for bugs or unexpected behaviors.

Added "Cave Centipede", kritter, curiosity.
Added "Wintergeen", flower, herb.
Added "Centibab", food.
Added "Autumn Steak", food.
Added "Beaver Cap", hat.
Added "Beaver Wrist Guards", "gloves".
Added "Shiny Marbles", curiosity. Suggested here.
Added "Fall of the Beaver King", experience.
Credos
-----------------------
Gem Hunter:

From hidden rocks and deep streams rings out a call of pure notes, calling you to their sources to hew them free, the endless facets of a thousand gems gleaming in the endless dark. Your heart has for some time burned with secret passion for the nobler salts of the earth, and your hunt leaves no stone unturned, as every strike of your pick strikes sparks to reflect and play in the lustre and shine of pure jewels, and light up the darkness of the mine with splendid color. All the Hearth was once a perfect diamond, ground to rocks and dusts by Time itself. Tracing the Gem Hunter's Seam promises...




Masonry +15
Higher chance of mining out gems.
Higher chance of mining out larger gems.
Can mine out pear cut gems.
Small chance of doubling a gem mined out.

Gem Hunter depends on Quarryman.
Key Fixes
-----------------------
Heart Containers dropped by Beaver Kings should now last more than 300 ingame seconds before despawning.
Fixed a bug by which you could lose your saddlebags, or whatnot, to some strange interactions with full inventories.
Small Fixes
-----------------------
Reworked the Roastspit resource to remove an ugly hack relevant in another context. Adder carcasses are now displayed on the spit.
You can now apply sketch pages to change the variable materials on Knarrs.
Rummaged around a bit in the food crafting menu, establishing the category "Wildgrub", put "Pitbaked Goods" under it, and made a separate subcategory for "Pancakes". Pancakes are now made from batter.
Small graphical fix to hemp stockpiles. Suggested here.
Winged Helmet now requires Fine Feathers. Goodbye Chicken Helmet.
Clicking a recipe in a later "page" of a submenu of the action menu should not reset the view to the first "page".
Fixed some minor issues with the text fields, especially as under the map view. <Home> should now work to move the type indicator to the beginning if the field has focus, <Enter> should now submit and remove focus from the field, stepping with the arrow keys should move along the view of the field, and the type indicator should no longer move outside of the field.
Windows should now save their positions and sizes.

As always, if you liked what we did here: Support the patch.
Today's Patch Item, for the fair price of $10, is the "Rasta Cap".
Store Description wrote:

$10

Praise Jah, mon, and beware how Babylon has no fruits. Haile Selassie!
All Gold & Silver subscribers have been awarded the Rasta Cap, free of charge.
In the Pipe
-----------------------
Enjoy!