We've been developing, and here's what's new.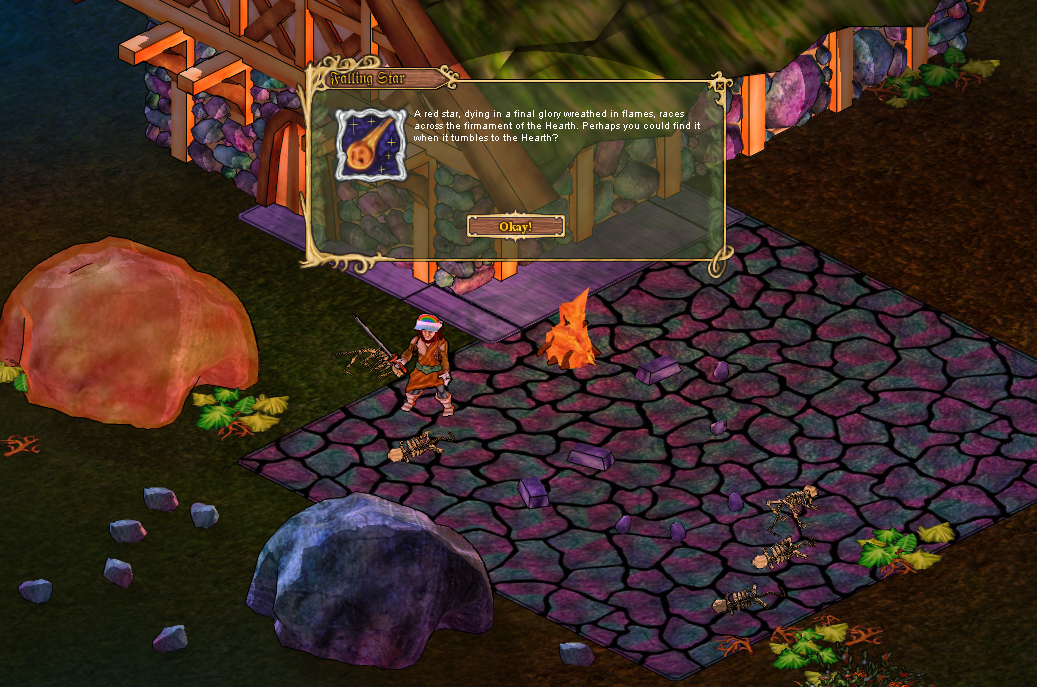 New Implementations
-----------------------
Added Falling Stars. Every once in a while a star will be knocked loose from the firmament of the Hearth, and begin hurtling towards it. Hearthlings are informed of falling stars by an event notification. While a star is falling, and if it is night time, you may use a new Hearth Magic, "Star Gaze" to get a tracking indicator, pointing, with some randomness, at a likely crash site for the star.
A falling star will be glowing red hot for some time after impact, during which time it can't be touched. Once it has cooled off, however, you may harvest a new mineral "Meteorite" from it. Metorite is an ore.
Falling stars are gentle creatures, and avoid landing on claims.
Added three distinct cave fishes. Will add more.
Added a skeleton for Beavers.
Key Fixes
-----------------------
Stats are no longer relevant for maneuvers, and the effects of maneuvers are always constant. This reverses a controversial change to maneuvers that we had made here.
Added a Purchase History sub-page to the "Account" page on the website. You can now view your entire purchase history there, if you have one.
Small Fixes
-----------------------
Truffle spawn values no longer accidentally left in debug mode, and are now set to some sort of sane value.
Fixed a typo in the Ancient Windthrow event text.

As always, if you liked what we did here: Support the patch.
Today's Patch Item, for the fair price of $10, is the "Sun Visor".
Store Description wrote:

$10

Don't be a beach bum this season, and instead bring this sense of timeless style to the sun and surf!
All Gold subscribers have been awarded the Sun Visor, free of charge.
In the Pipe
-----------------------
Enjoy!