We've been developing, and here's what's new.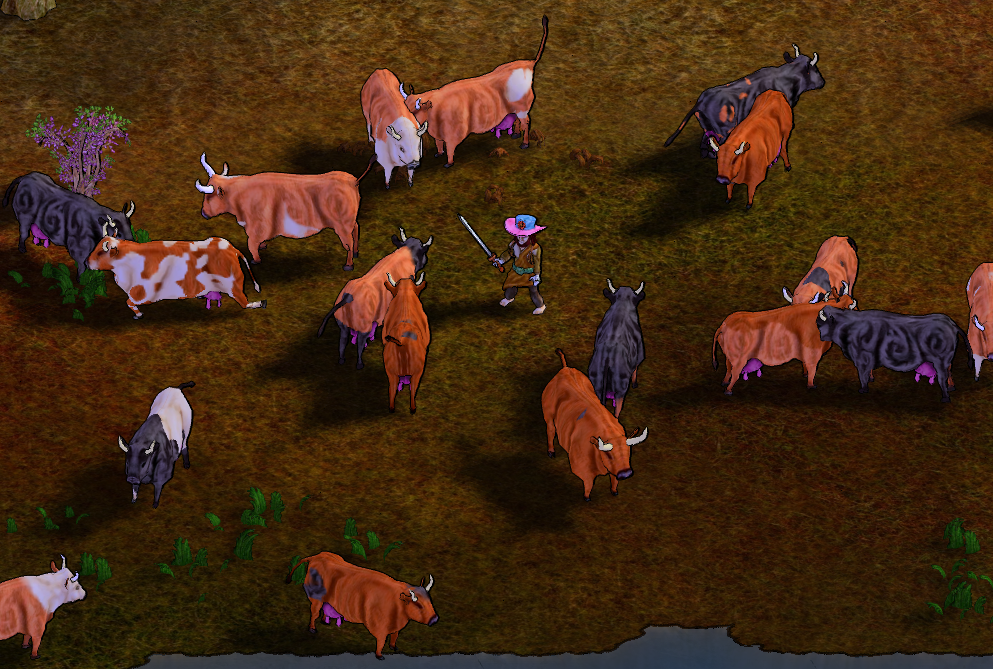 New Implementations
-----------------------
Implemented dynamic coloring of cows. This is a work in progress in that it, for now at least, only uses four textures, with three of those being the old bull, cow, and calf textures, but, anyway: Cattle now have a unique patterning to their hides, generated from hereditary data. Calves should, thus, have some resemblance to their parents, and it should be somewhat possible to breed cattle selectively to create new looks. Pretty cool! Existing moo-cows have been given a randomized pattern. Will most likely add to horses in the future.
Cave Lice can now be butchered, and their chitin retreived. They also have a stash icon for stashing in boats and such.
Added a treatment effect for Yarrow. Yarrow now takes a few seconds to treat "Nicks & Knacks" and "Scrapes & Cuts".
Added a treatment effect for Gauze. Wounds treated with Gauze finally indicate that they have been.

As always, if you liked what we did here: Support the patch.
Today's Patch Item, for the fair price of $10, is the "Flower Plush".
Store Description wrote:

$10

A wonderful blend of Texas and California, served with a side of plush.
All Gold subscribers have been awarded the Flower Plush, free of charge.
In the Pipe
-----------------------
Enjoy!