We've been developing, and here's what's new.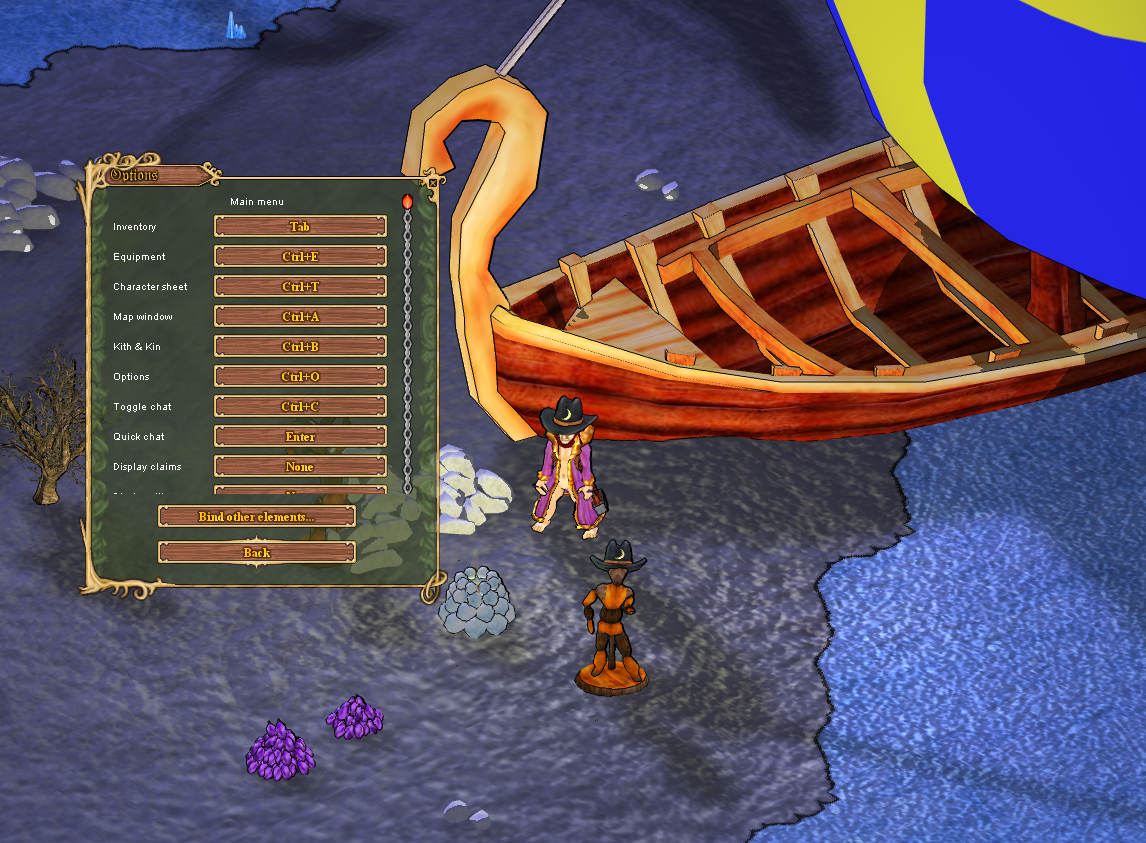 New Implementations
-----------------------
Implemented the ability to set arbitrary keybindings for many/most things. Under the options menu, you have the option to set most available keys to something of your choosing. Presentation and whatnot may not be perfect, so feel free to suggest items, or actions that you'd like to be able to bind to a hotkey. You can set new keybindings for the Action Menu (bottom right-hand corner) using the point and click tool under "Bind other elements...". Long overdue feature, and very glad to have it in.
To work around a peculiarity in Java's keyboard handling, a hack has been implemented, which we're not sure works quite as it should, so we'd be glad if people with non-english keyboard layouts and/or input methods take their time to test it out, even if you don't normally use the default client.
Added plum stockpile.
Combat Test Server
-----------------------
We have setup a test server for our current work on the combat system, which is based on aim based and directional attacks. There are six attacks/moves that are relevant and implemented. Punch, Jump, Left Hook, Kick, Quick Dodge and Chop. You can test it in Valhalla on the server setup for the purpose by using this client. Do note that we have some serious misgivings of our own about using this fundamental approach to combat, mostly concerned with twitchiness, lag sensitivity, and pacing, but we've nevertheless had some fun with it, and thought we might as well let you try it out at an early stage. We'd primarily like to gauge your takes on the fundamental approach of aim-based combat.
You attack in the direction of your mouse cursor.
Shift + Attack will attack in the current direction of your opponent. (Auto-aim)

The following attacks/moves are available:




Punch: Standard attack. Balanced in speed and damage.
Left Hook: Quick attack. Interrupts opponent. Reduced range.
Kick: Area attack in a full circle around you. Damage as punch. Slow.
Chop: Weapon attack. Slow. Heavy damage. Very reduced range.
Quick Dodge: Attacks miss you while active.
Jump: Removes some amount of opening. Very slow.

Text descriptions have not been updated.
Feel free to try it out!
Key Fixes
-----------------------
Knarr sails should no longer bleed through sketch layers when using bad-cam, or ever.
Small Fixes
-----------------------
Fixed a small bug with the per colored usergroup settings for realm menu partially overwriting the Realm's Kin-list.
The movement speed toggle (Ctrl + R) no longer wraps around, meaning that you do not go from sprinting to crawling if you accidentally toggle it too many times, because why would you ever want to.
The space-bar no longer by default folds down the central UI-elements. There is instead a blank keybinding for this functionality if you wish to use it.

As always, if you liked what we did here: Support the patch.
Store Description wrote:

$10

Ride and rope in the wild hunt of the starry heavens with the Half-Moon Cowboy!
All Gold & Silver subscribers have been awarded the "Half-Moon Cowboy", free of charge.
In the Pipe
-----------------------
Enjoy!