We've been developing, and here's what's new.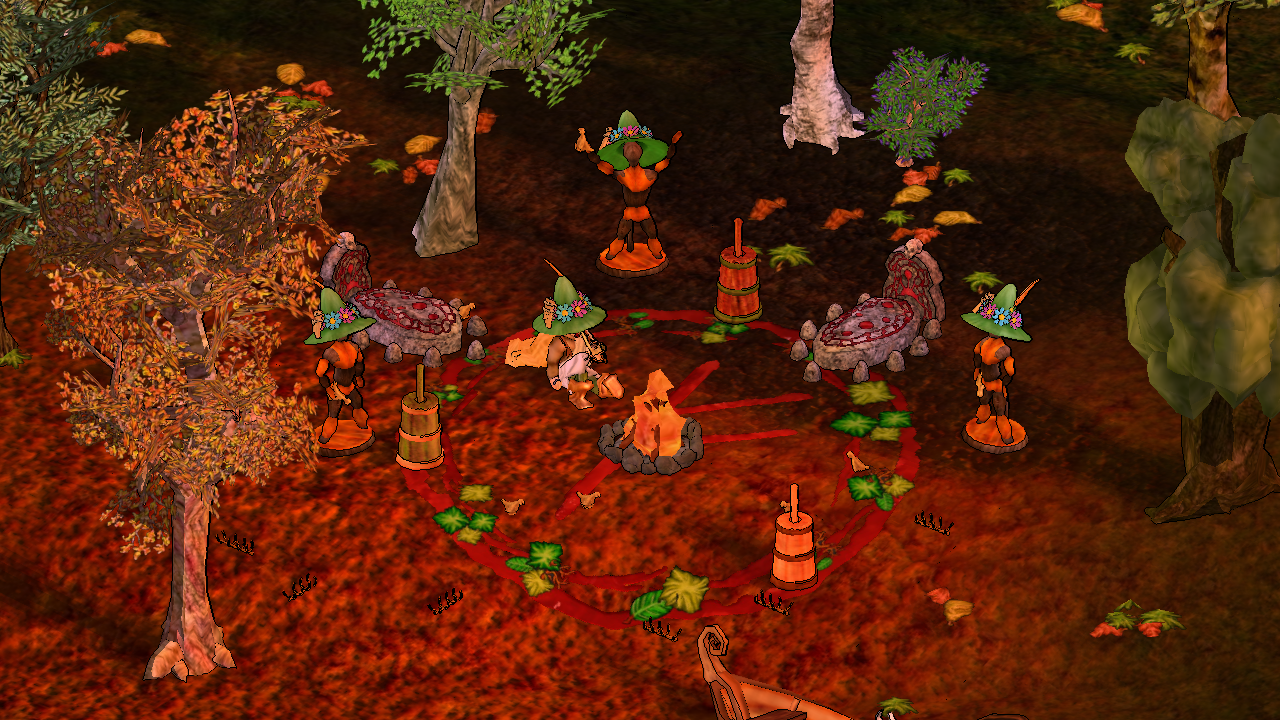 New Implementations
-----------------------
Wild Windsown Weeds now have a chance of being given a quality actually grown by someone, somewhere. The intention being that they should function as a catch-up mechanic for crop quality, by disseminating various higher quality crops more broadly. WWWs are now quality capped by Farming, rather than Survival.
Reworked/extended the plot representation. Field Cairns, used for setting local permission exceptions in villages, should now properly indicate their plots.
Added "Mushroom Kingdom", realm buff. Increases quality and quantity of mushrooms in Realms with the buff active.
Added "A Prayer for Opulence", ancestral worship prayer. Gives you one random item from the global pool of items sacrificed to the ancestors.
Added "Splint", a treatment for the "Something Broken" wound. Occupies one hand slot while active. Camomille Compress no longer heals "Something Broken".
Grave Cairns now indicate a full burial of a skeleton (including head) with a little skull on top. Grave Cairns built before this patch will all display as full burials.
Added "Clay Cuckoo", curiosity. Instrument.
Key Fixes
-----------------------
Reworked Crop Circles. Rather than build a million of them, you can charge your one Crop Circle by right-clicking more Heartwood Leaves into it. They still work on an additative basis if you do want to build more of them. Inspecting the Crop Circle should give you an idea of its effect on local crops. Crop Circle effect is halved each winter, rather than the circles being removed entirely.
Cellar bounding boxes should now be symmetrical. You can now apply locks to cellars. The original "key fix".
Added variable wood materials to Churn.
Small Fixes
-----------------------
Ancestors should now only ask for items discovered by someone, somewhere.
Lanterns should now equip better to walls.
Fixed a problem with a few vertices in the Loom model acting up when using bad cam.
Reduced cost of Clay Cauldron from 25 to 15 clay.
Reduced cost of Study Desk from 10 to 6 boards, and from 16 to 8 wood blocks.
Reduced cost of Thatched Bed from 10 to 6 thatching material.
The Creel can now hold lures, hooks, oysters, mussels, razor clams, crabs, and lobsters.

As always, if you liked what we did here: Support the patch.
Today's Patch Items, for the fair price of $9, is the "Spring Vagabond's Cap".
Store Description wrote:

$9

To wander with the seasons, to go where the feet are willing, and to chase a horizon more distant.
All Gold & Silver subscribers have been awarded the "Spring Vagabond's Cap", free of charge.
In the Pipe
-----------------------
We are working on a bigger implementation. Might be a few weeks.
Again urging any custom client maker who wishes to stay relevant to get with the new rendering times. Support for the old resources will be dropped at some point.
Our primary development direction is toward object-controlled-objects.
Time to... like us on Facebook?
Time to... follow us on Twitter?
UPDATE YOUR CLIENTS
. The map protocol is new, and not much will work without it.
Enjoy!