We've been developing, and here's what's new...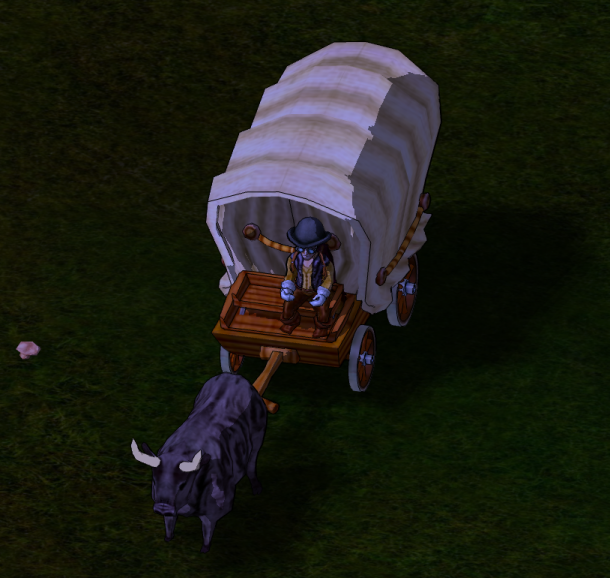 New Implementations
-----------------------
Added Yellowfoot Mushroom
Added Wagon. Hitch a bull to it and ride around. Takes a bunch of objects, four guys in the back and two upfront. Pretty much as in Legacy. We haven't done the raft to ford rivers with it yet, and it doesn't track ownership, but it might in the future.
Do note that the wagon uses a movement mode of its own, with a whip cursor. If you click away the cursor, just right-click the wagon again to get it back.
Fixes
-----------------------
All animals should now have their own, unique, quality fields
Modified animal baseline qualities somewhat
Fate-based herbs require proper levels of perception and exploration
Removed underground building restrictions causing
this
problem.
Can no longer disembark over terrain as per
this
bugreport
Dryads can no longer walk through walls.
Animals should no longer be able to attack from a different game world as per
this
bugreport
Animals should no longer spawn under village claims (suck it)
Live animals should no longer be considered liftable
Fixed a bug where a NULL-name in the kinlist would crash clients as per
this
bugreport.
Fixed an inverted condition which may have caused a general declining tendencey in crop qualities, instead of the opposite.
This
bugreport may be relevant.
Firebrands made with the Light Fire command should now have quality.
Fixed a bug with which dropped barkboat qualities would be affected by player skill when picked up. Also potentially relevant for small animals.
Bearcape should now set hair properly
Pickaxe now takes hardmetal, rather than castiron
Smithy's Hammer now takes hardmetal, rather than castiron
Cavedogs and Cow chorizos should now have proper hunger fill

As always, if you liked what we did here: Support the patch.
Today's Patch Item, for the fair price of $5, is the "Victorian Bowler".
Store Description wrote:

$5

Whether you are looking to dress up with the finest of the Fin de siècle, or just out for a little of the old doubleplus Ultraviolence, the Victorian Bowler always keeps your clockwork orange.
All Gold subscribers have been provided the Victorian Bowler free of charge.
Enjoy!