We've been developing, and here's what's new...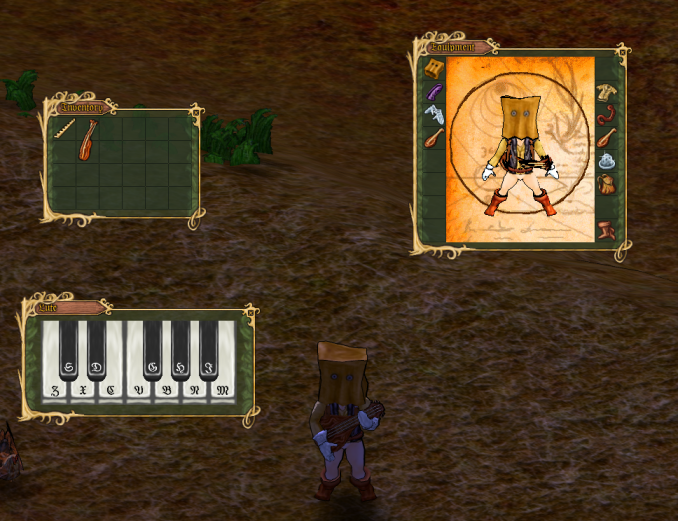 New Implementations
-----------------------
Implemented instruments
Equip instruments and Right-click them to play them.
Play instruments using the Z, S, X, D, C, V, G, B, H, N, J, M keys, modified by the Shift and Ctrl keys.
Implemented Adventure -> Inspect, which reports qualities of objects.
Added Lingonberries
Key Fixes
-----------------------
Swimming characters should now be logged out with the server in the event of a server shutdown, hopefully preventing
this
from ocurring. Server should also generally speaking completely prevent you from logging in on deep water, instead forcing relog to Hearth, hopefully also preventing
this
problem.
Hopefully fixed
the silly bug
which could freeze the interface when using drag-select area operators.
Small Fixes
-----------------------
Metal axe is now more stamina efficient than the stone axe when chopping down trees.
Ranger boots should now have armor.
Water qualities are capped downward to Q10 regardless of Survival.
Columns & Mine supports can be built pretty much everywhere.
Column now requires Tunneling.
Deep Artifice now requires Tunneling.
Poppy Flower is now a curiosity as in Legacy.
Should now be able to resmelt slag for small chance of iron.
Right-Clicking your ancestor's corpse should no longer give you the option to "Steal", but instead "Take".
Should now be possible to put cauldrons into wagons, fixing
this
bug.
Stumps should now yield quality blocks fixing
this
bug.
Should no longer be able to raise terrain in caves using soil as reported
here
.
Boats, carts and wagons now recall the last person driving them, who, being the owner, can always pick them up/drive them, even off hostile claims, hopefully alleviating, if not fixing,
this
problem.
Bait info should now update on switch, fixing
this
bug.
Should now need Trespassing to view the "Steal" inventory, fixing
this
bug.
Fixed a bug with armor using the same value twice, fixing
this
bug.
Fixed a bug with roasting spit not properly updating, hopefully fixing
this
,
this
, and
this
.
Leantos should no longer decay under claims, fixing
this
.
Fixed
a bug
with some baked goods yielding No-Q ashes
We Did Not Fix
-----------------------
I received a bugreport telling me that leather keeps consuming tanning fluid after it's done. Testing cannot reproduce.
I received a bugreport complaining that moving a boat while a passenger is fishing doesn't interrupt the fishing. Indeed, and nor does it IRL. Working as intended.

As always, if you liked what we did here: Support the patch.
Today's Patch Item, for the fair price of $5, is the "Brown Paper Bag".
Store Description wrote:

$5

Have a face made for radio, and a voice made for IRC? Fret not! You too can become a confirmed bagouser with this instantly shame reducing Brown Paper Bag.
Please update your clients, and...
Enjoy!