We've been developing, and here's what's new.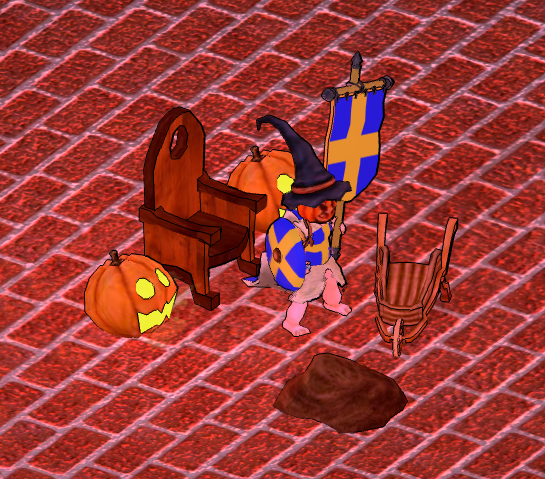 New Implementations
-----------------------
Added "Wheelbarrow". Right-Click the Wheelbarrow to move it around. Right-click a stockpile to draw from the stockpile to the Wheelbarrow. Right-click a stockpile while carrying load to dump to that stockpile. Right-click the ground while carrying load to place and dump to a new stockpile. Right-click the Wheelbarrow while carrying load to drop the Wheelbarrow. Right-click anywhere while not carrying load to drop the Wheelbarrow.
Added "Pumpkin Lantern". Build, light, enjoy.
Added "Painting". Wall item which can accept Custom Image Sketches.
Added optional support for Custom Image Sketches in the Round Shield.
Added "Linseed Loaf", bread
Added "Cottage Throne", furniture
Added "Cottage Table", furniture
Key Fixes
-----------------------
It is no longer possible to teleport along trails while in combat, as suggested here.
Fixed the damn cliff bug for the Nth time. Now stay dead.
Small Fixes
-----------------------
Moved Cake Knife from "Symbel- & Tableware" to "Forks, Knives & Cutlery" as suggested here.
Battle Standard is now a wall item.
Should now learn Linseed Oil properly when pressing.
Trees should now grow at accelerated pace on all forest terrains.
If trees stand on a forest terrain, they will also spread that particular forest terrain when growing up, rather than wald specifically.
Terrains with the same draw order will now be second-hand orderd by name, thereby making overlaps consistent over time, place and randomness.
Added a descriptive text to dowsing rods explaining their functionality. Dowsing rods should now also give error messages when dowsing from the highest local point in the water table. Hopefully fixing this.
Updated descriptive text on "Parry" block to avoid this confusion.
Reduced the hitbox of chairs a bit.
Reduced the amount of water removed per thing boiled in the cauldron's inventory from one liter to 0.2 liters, fixing this. Also reduced passive water consumption when boiling to half.
Reverted a change that cause branches to not take quality from the axe used to split them, fixing this.
Fixed a bug by which chickens did not drink water, as reported here.
Arrow-shattered arrow should now take quality from the arrows used to create it, fixing this.
Should now be able to put dead tamed animals of all genders and types into the wagon, fixing this.
Added input types for generic mutton, pork, and beef, which accept meat from both domesticated and wild animals, thus fixing this. Recipes have been updated to mirror.
Can now eat Beef raw as in Legacy Haven.
Fixed a bug with differing standards for raising and lowering soil, as reported here.
Fixed a bug with the Gold plate.
In the Pipe
-----------------------
We are more or less resolved to change quality tracking to floating-point to fix the issue of constant rounding down when mixing substances and whatnot. Hopefully we can get to this next week.
We are making progress with alternative payment methods via Xsolla, and hope to have the implementation up and running before too long. There's light at the end of the tunnel, at least. Thank you for your patience and support, &c.

As always, if you liked what we did here: Support the patch.
Today's Patch Item, for the fair price of $10, is the "Witch Hat".
Store Description wrote:

$10

Eye of newt, and toe of frog,

Wool of bat, and tongue of dog,

For a charm of powerful trouble,

Like a hell-broth boil and bubble.
All Silver & Gold subscribers have been awarded the Witch Hat free of charge.
Y'all have a sunny Samhain, aaaand...
Enjoy!