We've been developing, and here's what's new.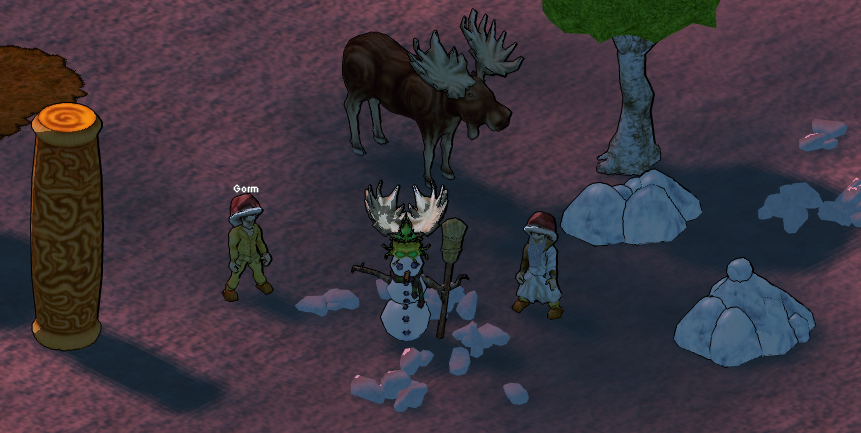 New Implementations
-----------------------
Added quest system. When you start a new character you are given quests to help get you into the game. We've done a few to start with, and will add more continously! Existing characters are unfortunately not updated to get quests presently.

Update your clients for quests to work!

Added a targeting arrow indicating your active target when in combat with multiple enemies. Not sure if it's clear enough, feel free to suggest improvements.
Added Moose and some related produce.
Added a new attack.
Added snow. You can dig it from a snow biome (on mountain peaks) near you.
Added "Flint & Steel". Craft, light fires.
Added Snowman, can be built, and most hats can be placed on it.
Added Snowballs. Craft them and throw them by right-clicking. We are considering making all ranged combat projectile based now, because fun. There's also some snow in Valhalla now if you want to try it out.
Added "Egg Cake", food
Key Fixes
-----------------------
Curiosities now have varying amounts of Wear, meaning that they can be used several times, losing one point of wear per use. Curiosities thus no longer use compound quality to determine their effectiveness, but rather: Substance increases the amount of Wear the item can take, Essence affects the amount of LP given per study cycle, and vitality reduces mental weight, approaching a reduction to half of base. The amount of LP given also scales linearly with the amount of wear left on the item, meaning that items give less LP per study iteration the more worn they are. Not at all sure if the amount of wear each curiosity has been assigned is at all reasonable, so feel free to suggest changes.
Made it so that animals only selectively bash objects on claims, hopefully alleviating/fixing the exploit used here.
It is now possible to Evict a visiting player from your claim (Right-Click->Evict), forcing him to travel to his Hearth Fire. If travel home is impossible for some reason, such as a crime buff, or a combat relation, the visiting player will instead be knocked out.
Small Fixes
-----------------------
You now get three Goldbeater's Skins per Suckling's Maw, rather than two.
Fixed a small update problem with Sheep indicating shearability. Cape awarded to jorb.
Fixed a small bug from last update which made water tiles impermeable to arrows.
It is no longer possible to build roundpole fences indoors
Harvesting now somewhat faster both with and without scythe
Added explanatory tooltip to barrel, demijohn, cheese tray.
Retouched the bindings in the drying frames for big hides.
Added a proper terrain object for chantrelles as dropped.
Gave Teapot a hotkey, as reported here.

As always, if you liked what we did here: Support the patch.
For this Christmas season we have two items on offer. First, for the fair price of $5, we have the Santa's Cap.
Store Description wrote:

$5

Ho-ho-ho, and a merry christmas to one and all! Santa needs every ablebodied little helper on deck, so report in for duty with this festive Santa's Cap!
Secondly, for the fair price of $5, we have Four Thousand Snowballs!
Store Description wrote:

$5

Tired of throwing your money away? Get some real value instead with this seasonal treat! Four Thousand Snowballs is a super snowball that can be used to throw, indeed, four thousand snowballs.
All gold and silver subscriptions have been provided the Santa's Cap for free, and we have also removed the first three launch hats from the store.
In the Pipe
-----------------------
With the year drawing to a close, and the four month anniversary of the release coming up in the same breath as well, we have a fair amount of things to meditate on as we, with this patch, sign off for a few weeks of R'n'R. I am very excited to be getting back to work in the new year, and I think I can promise at least some nice things to come. We expect to be back in action on the 4th of January.
We will turn off the subscription counter while we go on leave, so for the duration of the Holiday, all and sundry may play as much as you like, and for free, as no subscription or play time will tick!
Thank you for all your love and support during this year, and I hope to see you in the next!
Merry Christmas, Happy New Year, and...
Enjoy!
(ids a friggin santa cap!oneone!)