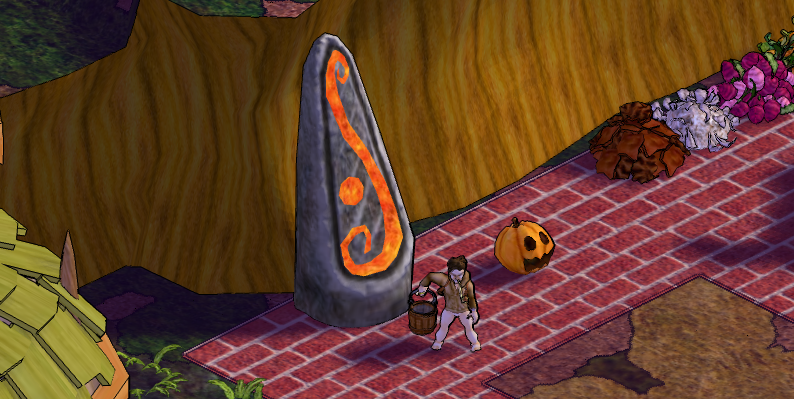 We've been developing, and here's what's new.
New Implementations
-----------------------
Added Charter Stones. You can build one Charter Stone per village. A Charter Stone can be given a (unique) name, much the same as a Hearth Secret. From a Charter Stone you can travel to any other Charter Stone you know the name of. You can spawn new characters by Charter Stones by giving the Charter Stone name to the skull pole in the character creation room. You cannot use Charter Stones for travel if you are Outlawed.

This, obviously, is complete madness, but it seemed like it could be an interesting madness to try out, if nothing else as a counterpoint experiment to the "roads only"-regime. We, along with many of you, have been disappointed with how roads have actually turned out to work in terms of allowing for player interaction. When we implemented roads we did so primarily in order to remove some of the exploity and locality-negating effects we felt that Crossroads had -- and because we thought it could be cleaner -- and not per se to create ridiculous hurdles for trade and simple hanging out. I'd like to stress that we -- at least presently -- don't really think of this as a permanent end solution to fast travel, as much as, indeed, an experiment, but it should at least prove a fun one to watch!
Small Fixes
-----------------------
Buffed decay time for yellow onion as suggested here.
Fixed a small problem with uncleared error messages, reported here.
Set building resources required for village idol closer to Legacy values.
In the Pipe
-----------------------
The Xsolla implementation has been on a complete hold during the holidays, and we're only now booting it back up. I'm not expecting it to take anything less than a month, but I could perhaps be pleasantly surprised.
We've had a planning session tonight, and the areas we primarily want to attempt to tackle in the coming months are: Siege & Warfare, and Death (death screen, cause of death, maybe some ancestral worship, &c). Also we still need to add some more introductory quests and help topics. We're kind of hoping that this patch gets player interaction off the ground enough for the time being, at least.
We've very much enjoyed having the game be free over the holidays, so it is with at least some regret that we turn the subscriptions back on tonight. We are continuously evaluating the model.
Not much, really, but we've mostly been talking. Nevertheless I hope you'll...
Enjoy!