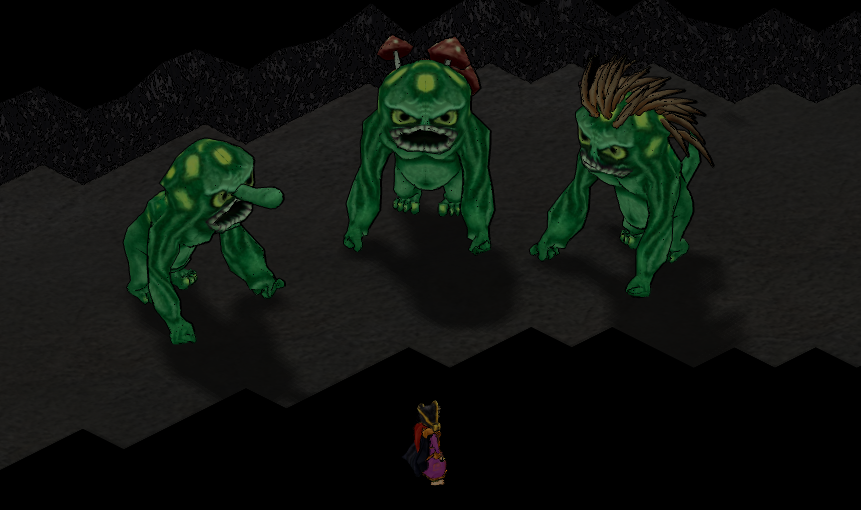 We've been developing, and here's what's new.
New Implementations
-----------------------
The big thing this week is that we -- and I realize that this may or may not be the most exciting thing in the world for an end-user -- finally took the time to add support for multitexturing, as well as systems to support combinations of variable materials and toggleable mesh-IDs. I have mentioned it several times in several places, but previously we have not been able to use these techniques together, for which reason, for example, the Runestone runes have always been displayed -- even before you have actually written on the stone -- and this in order to support variable stone materials on the runestones instead. After today we can (almost) combine these to both toggle the runes on and off, and have variable materials -- look determined by stone type used, that is -- on the stone. There is still a small crux to iron out before we actually begin using this, but the technology will allow us to potentially use variable materials on a whole bunch of things that up until now haven't been able to have them, with notable candidates being, for example, boats, siege machines, carts, and wagons, but potentially even things like crates and chests could be on the menu, although we want to be a little bit conservative with it until we know what it does for performance.
We now also support multitexturing, meaning that several objects -- houses notably -- now use an additional texture to create shadows and highlights on their variable materials, which have previously looked horribly flat, thereby hopefully raising their looks a fair bit. I realize that a lot of you may never notice that anything ever changed, so for posterity's sake I've taken some before and after pictures. Another example of before and after. It strikes me as a major improvement. This took the better part of two nights to fix, so if it strikes you as useless larping, you can at least console yourselves with the fact that we won't have to do it again. Please count to ten before complaining that your house now looks different, #dealwithit, and... by God...

UPDATE YOUR CLIENTS!

Re-implemented Trolls. Trolls kill players without asking questions. All Trolls have a randomized collection of parts to determine their looks, and the looks correspond to loot from them. Otherwise it is mostly as in Legacy.
Added "Butter-Chived Trout", food
Added Wool stockpile
Key Fixes
-----------------------
Horses should now have an animation indicating when they are ready to be tamed. Reported several places, but among others here.
Wild Horses should no longer be alerted by their rider firing close to them. Reported here.
Parry and Feigned dodge should now be working as intended again, as reported here.
Holding an object aloft no longer blocks arrows from hitting you, and you should also now be able to fire through open gates. Reported here.
You can no longer fight or aim a bow while carrying things aloft. Suggested here.
Inspecting, slaughtering and shooing horses should only be possible when the animal is leashable, i.e. not when it has a rider on it.
Removing mine supports now only causes caveins if the removed minesupport had at some point prevented a cavein. All existing mine supports count as having prevented a cavein.
The new soak and HP values we reported for houses in the launch patch had not been implemented. They now have been. Reported here.
Small Fixes
-----------------------
Pearl Necklace now requires the Jewelry skill
Herbs should no loger be destroyed when picking them fails due to open flower menu. Fixing this.
Some adjustments made to animal attack range which can hopefully fix this problem.
Wild Horses should now ride down small animals.
Tanning tubs should now draw tanning fluids for all hides, and not just small ones. Reported here and here.
Spears should no longer fly out into nil (black) tiles. Reported here.
Horses can now be knocked out.
In the Pipe
-----------------------
I've noticed a fair amount of complaints about both the siege system and combat. I'm contemplating both a bit, but the feedback is not lost on me.
We have begun discussing the prospect of taking some time to fix "object controlled objects", a server engine upgrade which basically would allow for some objects to depend upon other objects in a more developed fashion. The immediate purpose of this would be to allow for objects which can actually be walked upon, which could potentially allow us to do things like walk-on-walls, rafts that can actually be walked upon and onto, non-pocket world houses, and bridges. It is a significant project, so it might be more than one week in the making. I'm not 100% that we'll go for this next week, but we want to do it at some point in the not too distant future, mostly because it seems like one of the more significant level ups we can give the game, but also because it is foundational enough that plenty of things could potentially come to depend on it, so it'd be nice to have out of the way.
Client optimizations.
Enjoy!