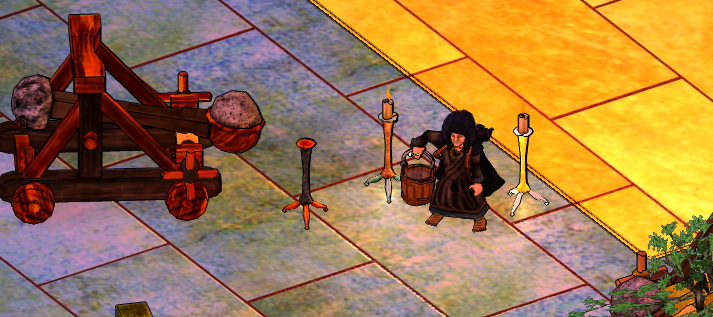 We've been developing, and here's what's new.
New Implementations
-----------------------
Added icons to the Character selection screen to indicate subscribed and verified account status. Update your clients to notice this.
Added/Re-added Candelabrum from legacy.
Added Grubpie, food
Siege Changes
-----------------------
Authority objects now lose their soak if their village is out of authority.
Newly built authority objects cannot be further expanded from, until 12 hours after completion.
You can no longer repair things that are currently being destroyed.
You can now only deal damage to claim shields by attacking walls and authority objects. Claim shields still protect everything under them from siege machines.
We reduced the amount of brimstone from 300 globally per day to 200.
You now get a system message whenever you log in on a claim without a full shield.
You can now apply brimstone to a Village Idol or Claim Pole, to restore its shield by 250 points. You may buffer/apply up to five units of brimstone at once, and the Idol/Pole then "restores" one unit every 30 minutes. So you may apply brimstone once every 30 minutes, or five times every 2.5 hours, or whatever in between. Newly built villages count as having a buffer of 20 brimstone to work through, and they can thus only be boosted after eight hours.
You now need 50 strength, 50 perception, and 50 marksmanship, and a new skill "Siegecraft" to fire a catapult, or use a battering ram. Siegecraft is also required to build catapults and battering rams. All siege machines can still be moved without Siegecraft.
If you siege a siegeable object -- wall or authority object -- and that object is covered by both a private claim and a village claim, you now deal damage to both claims' shields, rather than just one or the other. If either shield is up, that shield will count.
Key Fixes
-----------------------
Fixed a bug by which charter stones ignored the variable materials used to build them, and always defaulted to standard materials. You will have to rebuild if you want special materials. Sorry about that.
Fixed a bug by which it was possible to at least temporarily duplicate store hats.
Small Fixes
-----------------------
In the Pipe
-----------------------
Small patch, but a fair bit of progress on floating point coordinates.
The siege changes are merely an attempt in response to the feedback we've gotten since the last siege changes.
Object-controlled objects, sliding along bounding boxes, curiosity and combat reworks, are at the forefront of at least my mind.
Enjoy!