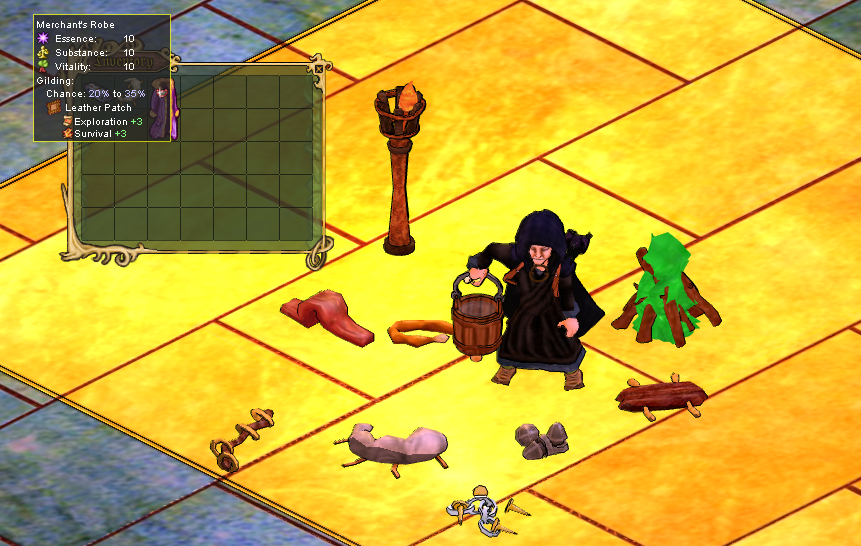 We've been developing, and here's what's new.
Equipment Gilding
-----------------------
Implemented "Gilding", in an implementation similar to the Artifice system in Salem. Rather than having intrinsic stat bonuses, pieces of equipment now instead have slots, into which Gilding items can be slotted, to confer their bonuses to the wearer of the piece of equipment. Hold the Gilding item you wish to add, and right-click the piece of equipment you wish to add it to. Every time you add a Gilding item to a piece of equipment, you have a certain chance, presented to you before you gild the equipment, to open up a new slot for another item. If you fail the roll, and no new slot opens up, no further Gilding items can be added to the equipment in question, and it is permanently completed. Gilding as such is always successful.
Gilding items, and equipment, each have a chance span, and a set of associated attributes. The chance spans for the gilding item and the equipment you add it to, are multiplied with eachother to create the actual chance span, and your actual chance within that span is then determined by your stats in whichever attributes are matched between the gilding item and the equipment.
Bottom line: Increase your chances of opening up new slots by matching the attributes (Farming, Stealth, Agility, &c) of the equipment you are gilding, with gilding items in those same dimensions, and then increase your character's values in those attributes.
The qualities of Gilding items are always softcapped by the quality of the equipment they are gilded onto.
As a part of this we made it so that no stat bonuses, or combinations of them, can ever push you beyond twice of what you already have natively. This partly to reduce the effectiveness of dressed up alts.
Redid pretty much everything equipment related except armor as a part of this change, significantly so by removing most native stat bonuses. We mean for armor values to be more integrated with this system as well, but we want to have a better damage model before we move forward with that, so this all mostly applies to clothing for now.
When setting the values for equipment and gilding items, one ambition has been to make it so that the old equipment bonuses should be fairly easy to reproduce in the new system. This hasn't been zealously carried through, but it's there.
All equipment should now display their bonuses in tooltips.
Of course, added a bunch of Gilding items, and made some old items gildable.
New Implementations
-----------------------
Added/Re-Added Torch post from Legacy. You can stash and retrieve a torch from it at your leisure.
Added a sand stockpile, as recently suggested here.
Siege Changes
-----------------------
Claim shields can now be attacked by shooting at houses. House walls should no longer be a thing, if ever they were.
Key Fixes
-----------------------
Eviction now requires line of sight.
Small Fixes
-----------------------
In the Pipe
-----------------------
Much the same as last patch. Still working on floating point coordinates.
A bunch of invasive and basically untested changes? My kind of patch.
Enjoy!