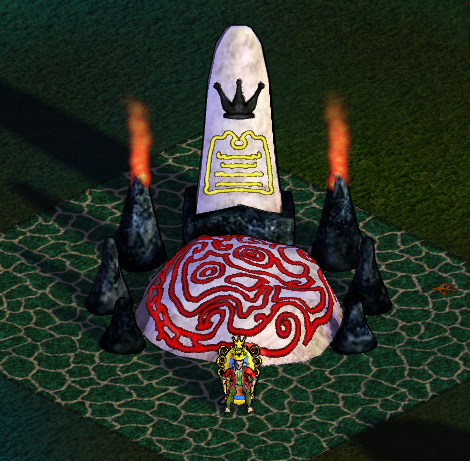 We've been developing, and here's what's new...
Realms
-----------------------
Players may found Realms. Realms are political orders distinct from Villages.
Realms radiate a claim, much like a Village. A Realm claim does not protect things beneath it in any way. Commiting crimes in a Realm leaves no scent, or anything like it, but rather...
Any Experience points earned benath a Realm Claim, are also added to that Realm's authority. This is not a tax on the earner, but rather each point of experience earned within the Realm is also, additionally, added to the Realm's authority. It does not matter whether the earner is a member of the Realm or not.
Realm claims are vast, and can be expanded easily through the construction of cheap Border Cairns.
Border Cairns can be challenged by other Realms. Challenges cost 10000 Authority initially, increasing with each additional challenge your Realm places simultaneously, and leaves an "Ominous Smoke of War", which can be used to track down the challenger's Realm.
Two RL hours after a Border Cairn has been challenged, it can be attacked and destroyed. Destroying a Cairn takes a fair amount of time ~30 minutes depending a bit on your strength and whatnot, and only one person at a time can attack the cairn. If you destroy a Border Cairn (which is not yours) your realm gains 5000 Authority.
Realm Objects can, symmetrically, be attacked without challenge for two RL hours upon first being built.
Realm Objects can be attacked without challenge when the Realm has less than 24 RL Hours worth of Auth Drain left.
Coronation stones drain 500 Auth/RL Day
Border Cairns drain 10 Auth/RL Day.
Realm Members may toggle indication arrows pointing out all active challenges against the Realm's Border Cairns, and are also notified that there are active challenges against the Realm when logging in.
Realms have a number of distinct abilities that their members can use, at a cost in Realm Authority.
"From the Public Coffer": By drawing on the Public Coffers you can draw Experience Points from your Realm's Authority. You always gain 1000 Experience Points when using the ability, but the authority cost increases the more often the ability is used within the Realm. Over time the authority cost returns to normal. Cost: 2000 Authority, modified with increased use.
"State Funeral": By granting a fallen Hearthling a State Funeral, his heirs will receive an additional 30% of his character values as inheritance. Cost: 50000 Authority.
"Last-minute Diplomacy": With some Last-minute Diplomacy you can stall all pending challenges to your Realm's Border Cairns by one hour each. Cost: 5000 Authority per challenged Border Cairn.
New Implementations
-----------------------
Added a button to abandon quests.
Added icons to quest arrows.
Differentiated cheese made from Sheep's milk, and added 12 new Sheep's Milk Cheeses with various tier and maturation paths of their own. Previously existing curds have been rendered as Cow's Curds. Mixing Sheep and Cow milk yields generic curd, which can only result in equally generic Gouda.
Added the ability to put locks on Knarrs. If you do, the key will be required to sail the Knarr. Also made it so that you need Siege Engines to damage a Knarr, but on account of that lowered their HP from 7500 to 2500.
Added/Re-added "Lawspeaking", skill required to form Villages and Realms.
Added "Giant Puffball", herb.
Added "Bay Bolete", herb.
Added "Way Broad", herb.
Added "Royal Crown", equipment. May only be worn by Kings.
Added "Hermine Cloak", equipment.
Added "Hermine Cape", equipment.
Added "Royal Throne", chair.
Added "Fine Sofa", sofa.
Added "Leather Fabric", cloth.
Added "Straw Twine", string.
Added "Extra Stitches", gilding.
Added "Feather Stuffing", gilding.
Added "Metal Arrow", duh.
Added ten new Experiences/Lores.
Hearth Magic
-----------------------
"Dig Deeper": By digging a well deeper you can reach lower, cooler, and ever fresher sources of water, increasing the water qualities of the well. Digging Deeper becomes more expensive the farther down you get. Cost: 20000 XP, doubling each time you dig the well deeper.
"Vengeful Incantation": By drawing deep breaths of vengence served cold, and on your utmost knowledge of the dark arts, you may send a Nidbane most fearsome after a hated enemy. Cost: 7500 XP.
"Polish the Silver": By Polishing the Silver you may remove all Wear from a symbel item. Cost: 250 XP.
Key Fixes
-----------------------
Slings now retain 80% of the aim meter after firing, rather than 70%.
Bows now retain 40% of the aim meter after firing, rather than 0%.
Small Fixes
-----------------------
Fixed a small bug with the Runestone bounding box.
Removed the -1 agility debuff from bark reinforecement and added it to the nettle shirt and pants instead.
Wool Stuffing now fits Sewing, in addition to Agility.
In the Pipe
-----------------------
The basic idea with Realms is that players can expand out over other, lower tier, players and use them as XP/Authority gathering tax serfs, without really hurting them by doing so. Realms can then challenge each other's Border Cairns, and fight over turf, which may in turn hopefully foster some interesting, albeit lower stakes than full-blown sieges, PvP.
No clue whether the values we've set for the Realms are good, meaningful, or just shit. The idea is that it shouldn't be the end of the world if you lose a couple of Border Cairns.
We haven't added permissions settings for Realms, as we figured you can be selective about who you make a member of the actual Realm, but already as I write this I suspect that you'll insist on permissions before long. *sigh*
We may try to do some low effort/high impact patches in the coming weeks, but more importantly we're delving back into the wonderful world of the combat system.
Feel free to have a gander at the store if you like the patch.
UPDATE YOUR CLIENTS
, and...
Enjoy!