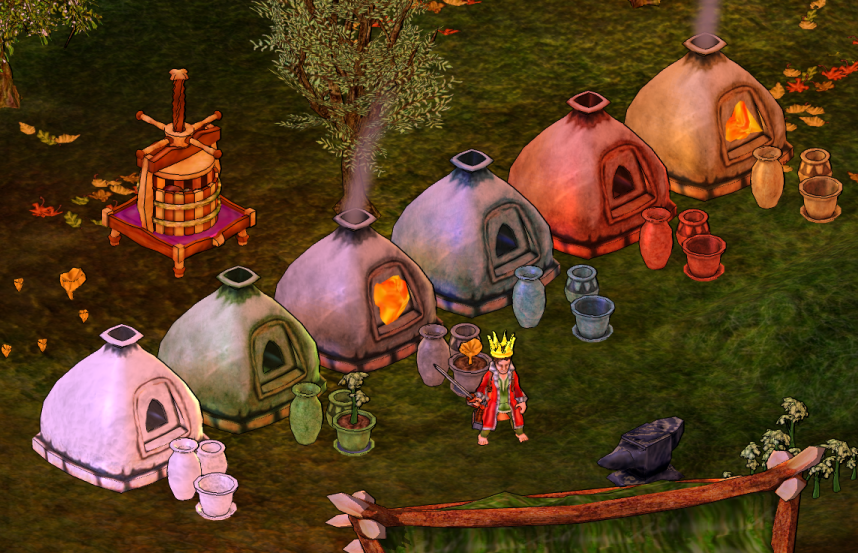 We've been developing, and here's what's new.
New Implementations
-----------------------
Added/Re-added Gray, Cave, and Bone clays from Legacy, and implemented variable materials for existing clay objects -- pot, urn, kiln, and clay cauldron -- along with that.
Added Garden Pot. Fill a Garden Pot with four soil and one liter of water, and it allows you to replant some (not all) of the otherwise wild herbs. Currently Blueberry, Chantrelle, Chive, Clover, Dandelion, Kvann, Lady's Mantle, Parasol Shroom, Uncommon Snapdragon, Stalagoom, and Stinging Nettle are plantable. Growth times vary significantly, and using Guano and/or Spring Water both increase the payout, or chance thereof.

Salem & Hearth confirmed.

Added Compost Bin. Fill a Compost Bin with compostable materials and, after some time, retreive Mulch instead. Mulch functions as soil.

Salem & Hearth confirmed.

Added "Kvann", herb.
Added "Blacksmith's Bauble", curiosity, gilding, wall decoration.
Added "Tafl Board", curiosity.
Added "Seer's Stones", curiosity.
Added variable materials to Winepress.
Combat Changes
-----------------------
Tentatively lowered the pursuit speed bonus from 5% to 1%. Considering.
Key Fixes
-----------------------
Fixed a bug by which soft damage was applied after hard damage, causing significantly more damage total than was intended to be assigned.
Overlapping realms no longer both earn authority from XP gains under them. Instead, authority is awarded primarily to the Realm the earner belongs to, and otherwise, if the earner is not a member of either Realm, randomly.
Fixed a bug with Coronation Stones having their soak and HP set wrong.
Nidbanes used to wait three ingame days before attacking their targets if offline. They now, rather, wait exactly 26 RL Hours.
Whenever you complete a quest, the game will automatically select the quest with the geographically closest next quest target.
Animal produce quality is now soft-capped by each projectile you shoot/'sploit into them. You're welcome, now go be men.
Made it so that Tar Kilns contribute some qualities to wood burnt in them.
Small Fixes
-----------------------
You can no longer aggro your mount. Not sure if more or less fun than before. Hermine cape awarded to jorb.
Removed a minor attempted texture animation from Menhir and Grotesque Idol, as they were incompatible with variable materials.
In the Pipe
-----------------------
We were working on something else as well, but didn't manage to finish it as I had hoped. Next week!
We kicked Dis in the nuts for botting. Read all about it here.
Business as usual. Let us know what you'd like to see us working on!
Enjoy!