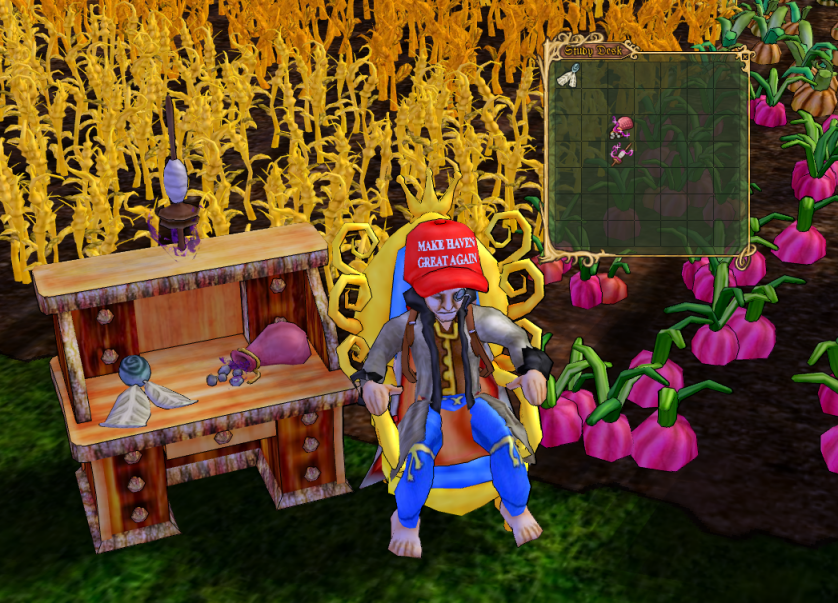 We've been developing, and here's what's new.
New Implementations
-----------------------
Added "Study Desk", You will automatically draw and study new curiosities placed on your study table, whenever you finish studying a curiosity. I'm sure this doesn't negate the problem of auto-study bots entirely, but it can perhaps mitigate it a bit, and the desk makes for nice decoration if nothing else.
Added "Wheat". Wheat has its own flour and beer, and is thus an alternative cereal crop to Barley. The baking recipes now require any flour, rather than barley flour specifically. Do note that you will have to rediscover flour and whatnot. Honey Buns now require wheat flour specifically.
Added "Red Onion". Red Onions are a type of Onion. All recipes previously requiring yellow onion will now rather ask for any onion. You will need to rediscover onions.
Added "Fruit Pie", food. Can be made with both Fruit and Berries, and takes various buffs depending on what you use to craft it. Will add more things using various fruits, nuts and berries down the road.
Key Fixes
-----------------------
Added cached drawing for objects using variable materials, and for animated objects when not actually animated (eg chests). Might imply some performance gains.
Small Fixes
-----------------------
There is now a slight cooldown (~15 seconds) after a player has stopped destroying an object, and before the object can be repaired again.
Fixed a bug by which bear could flee even if raging. Also made rage significantly scarier.
Locks now have a tooltip indicating if they have been attuned to a key or not.
Crafting recipes now prioritize equipped sources ahead of inventory, meaning primarily that water should be drawn from buckets before water flasks and the like. Reported here.
Fixed a memory leak which sometimes caused the client to stutter until relog after some exploration.

By popular request, and some inspiration from the zeitgeist, we decided to add the first new store hat in a good while.
Today's Patch Item, for the fair price of $10, is the "Campaign Cap".
Store description wrote:

$10

Make Haven Great Again! At some undefined point in the past, Haven was great, and by flying this red campaign cap, loud and proud, you strive to make it thus again! MHGA!
All Gold and Silver subscribers have been awarded the Campaign Cap free of charge.
In the Pipe
-----------------------
Enjoy!