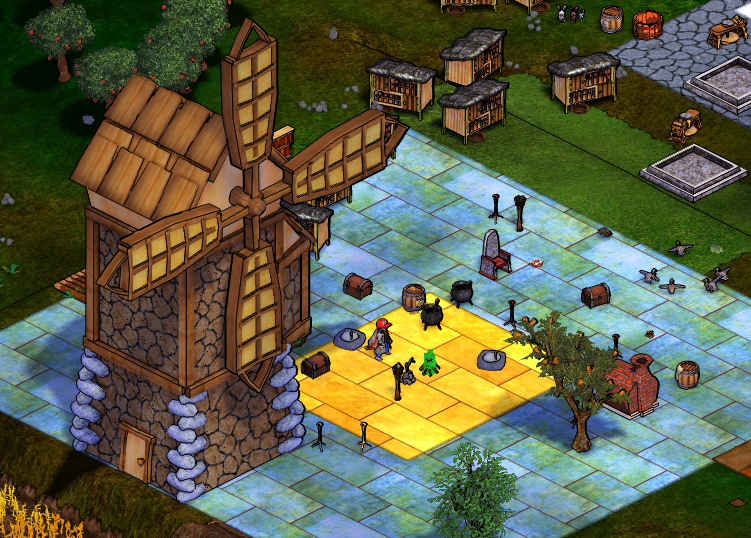 We've been developing, and here's what's new.
New Implementations
-----------------------
Floating point coordinates. With tonight's patch we will, at long last, be converting the live server map from integer to floating point coordinates. This may have all manner of consequences know and unknown, in terms of object placements and movement interactions, and whatnot, so report any new and unexpected behaviors. It feels good to finally push this, at least.

All clients need to be updated, and custom clients need to merge these changes.

Added "Windmill". A Windmill is a large house in which you can build a "Milling Machine". The machine is built separately from the Mill itself, in anticipation of other machineries that we may add in the future. Fill the machine with millable seeds, and watch it turn into glorious flour. There is no quality impact from the machine, and the resulting flour thus has the same qualities as the seeds.
Added "Wall Shelf". You can craft and hang a wall shelf on a wall, and it then functions as a container.
Re-added "Strongbox". The strongbox can't be built on claims without access to them, and also can't be moved.
You may now place locks on chests, large chests, stone caskets, coffers, and sheds.
There is now an informal weight system which allows us to specify weights on carried objects, and, thus, you may now carry lighter things -- pots, and whatnot -- at significantly increased speeds. A net result of this is that most things are, quite simply, a lot easier to carry. Carrying speed also increases with character strength.
Small Fixes
-----------------------
Stinging nettle hangs better on walls.
Yarrow is now a flower, and can be hung on walls
In the Pipe
-----------------------
The majority of the time over the past weeks has been dedicated to a push-out mechanic, by which characters, when colliding, would gracefully slide off objects, rather than clip hard on every little pixel. We had hoped to have it finished, but it isn't, albeit underway, so we decided to push what other little things we had to at least throw you a bone. Apologies for the delays, but it's kind of a big deal.
Enjoy!