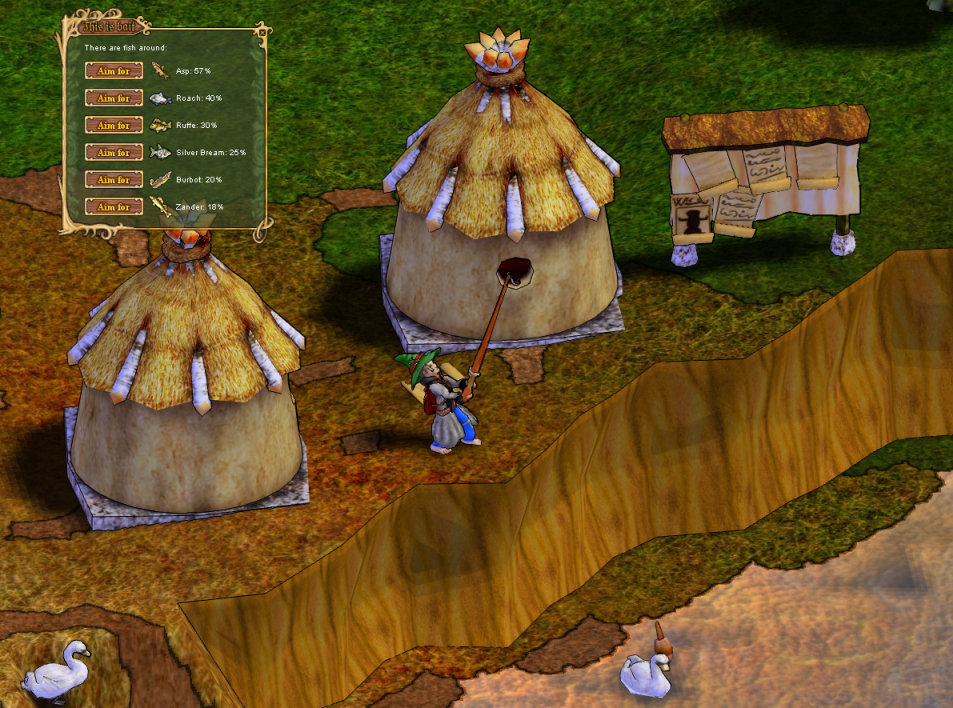 We've been developing, and here's what's new.
New Implementations
-----------------------
Re-made lure-fishing. The old fishing minigame has been removed, and replaced with a new one. Instead of guessing inane poetry, you are now instead presented with a list of options on fish to catch, determined by your fishing gear, the moon phase, and the local conditions otherwise, along with a chance to catch that particular fish, quite simply. You can take whichever lottery ticket you wish. The more "Will" and "Survival" you have, the longer and more exhaustive list you will be presented with, and the longer time you will also have to make your choice. If you chose nothing within the timeframe, you will automatically pick the fish with the highest catching chance. As with angle fishing you always have a chance to lose your lure, and whatnot. Also we significantly sped up both angle and lure fishing.
Added "Granary". A large, fixed vessel for seeds.
Added "Swans". Swans are mildly aggressive water fowl.
Added "Notice Board". You can hang parchments on these for plebs to read. Feel free to suggest improvements. Recently suggested here.
Added "Strawberries", herb. Earlier today suggested here.
Added "Fisherman's Hat", hat.
Added "Fine Feather Brooch", gilding.
Key Fixes
-----------------------
For farming: Removed generational quality randomization per plant, and thus seed sorting, from farming, and returned to the previous W9 quality randomization mechanic per locality and point in time. Removed inspect feedback on crops. Remade crop quality fields to crop speed fields, so that crops now grow with somewhat varying speeds in varying locales, rather than have their qualities affected by the crop fields.
Small Fixes
-----------------------
Walrii should now give attack discoveries properly.
Fixed a problem with the pack logic for Walrii causing necromancy.
Some minor touch-ups on the walrus' knocked-out poses.
Auto-drink should now work with building.
Attack hotkeys no longer remove a queued attack. This implementation was a legacy since when character movement did not interrupt queued attacks, and is no longer necessary as movement now does cancel queued attacks. Suggested here.
Melee attack descriptions still mentioned Vitality. Fixed this, and updated them to reflect present mechanics.
Fixed a text issue in the descriptive text for "Shield Up".
Fixed a bug by which breaking the neck of a mallard would disappear the mallard. Reported here.
Written parchment tooltips now display the first couple of letters of their text.
In the Pipe
-----------------------
We had a pretty nasty crash earlier today with some local rollbacks and two lost villages. It seems sorted now, but it ate a fair bit of dev time.
Nothing much to add.
Enjoy!