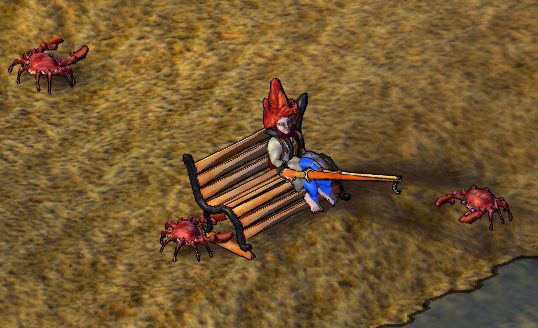 We've been developing, and here's what's new.
New Implementations
-----------------------
Did server work to add "instanceless methods". Down the road this will allow us to automatically generate tooltips for food, and perhaps building recipes, in the crafting menu, as well as fix the barter stands to take all item types, and all kinds of very nice whatnots. Merely trying this out in principle for now -- you won't notice any difference -- but nevertheless.
Added "Crab", beach kritter. Doesn't fight, but hurts to pick up. Several related resources and crafts.
Added "Black-Eyed", wound.
Added "Finebone Trinkets", gilding.
Added "Garden Bench", bench.
Added a quest target to deliver certain goods to quest-givers. Mostly sticks and stones.
Key Fixes
-----------------------
Fixed a bug with the Wild Windsown Weeds in that their distribution areas -- in which they yield the same couple of crops and seeds -- were far too large.
You can no longer inspect wild animals.
You can now catch trash while lure fishing. Sorry about that.
Leantos now enforce a minimum building distance of one tile, fixing this. This is why we can't have nice things.
Nidbanes can no longer be summoned using character specific scents -- assault, battery, and murder -- committed against characters lacking the "Rage" skill. Killing an entirely fresh alt spawn will, thus, no longer imply having Nidbanes sent after you. Crimes against property -- Vandalism and Theft -- are unaffected by this. At least in part adressing this.
Small Fixes
-----------------------
Functional -- i.e. fully equipped -- fishing poles should now be equipped from toolbelts when you try to fish.
Buffed the udder sizes of animals to 25l.
Fixed a bug by which animals would continue to eat more, to produce milk, even with their udders full.
In the Pipe
-----------------------
Smallish patch, but steaming on!
Enjoy!