We've been developing, and here's what's new.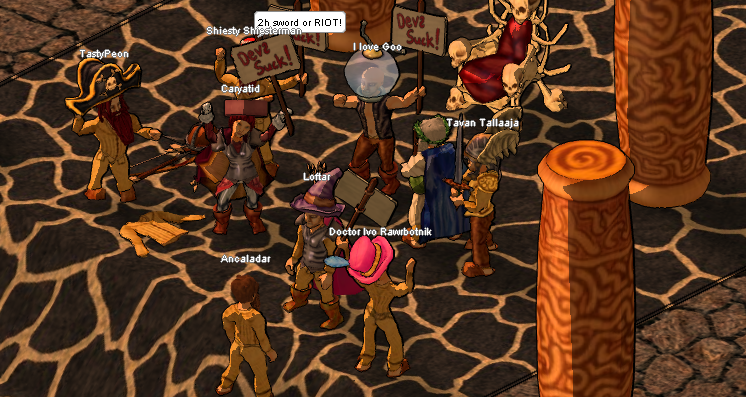 New Implementations
-----------------------
Utilized the implementation of "instanceless methods" from the previous patch to add server generated and authoritative tooltips to gilding, armor, food, and curiosities, available also on the action menu icons. Long, long overdue.
Also, again long overdue, added a time tooltip to all curiosities, indicating how long they take to complete. The time given is specified in ingame time, since that is how we specify timed processes server side. This should perhaps be RL-time instead, but for us that is a bigger deal, and you can also make the conversion to RL time yourselves, by simply dividing by 3.29 -- the RL time ratio.
Added "Combat Instructions". Combat Instructions can be used to teach attacks and moves to others.


You may craft a Combat Instruction by holding a Parchment, and right-clicking an attack or move you wish to describe in the "Martial Arts & Combat Schools" subsection of your character sheet.
A combat instruction is studied in the Study Report just as a curiosity would be, but consumes LP upon completion, rather than giving it.
A combat instruction records the number of the particular attack whoever crafted it had, and can be used by others to learn the move in question up to that level. (I.e 4xPunch, or whatever).
You cannot study the first attack of a particular kind using a Combat Instruction, which, instead, must still be learned from an animal. If you have a Combat Instruction in your Study Report, however, you will -- this specifically for the first attack of that kind -- always receive the attack in question from any animal which gives it, removing the random chance to get that particular attack. Should a Combat Instruction thus help you to get the first attack of a particular kind, it will be consumed at no cost in LP.

Added "Wolverine", feisty kritter. In between boar and badger in stats, but significantly faster than boar. Aggressive.
Added "Royal Stool", a little stool to sit on. Also rearranged the furniture menu and added a submenu for "Chairs & Seating".
Added "Crab Cakes", food
Added "Carpenter & Walrus", sausage.
Key Fixes
-----------------------
Fixed a bug with all melee attacks using outdated mechanics. Reported here.
Starved animals now have a slight drift back towards normal health if starved, rather than being perma-starved, fixing this.
Fixed at least one possible walljump. Capes awarded.
Re-Added quality inspection on dead animals.
Gauntlets now count as gloves for crabs and other purposes. Sorry about that.
Small Fixes
-----------------------
Fixed a bug by which some autodrinking operations would not abort ongoing actions and walking.
Fixed a bug by which quests to visit the first cave level would give far too much LP, whereas quests to visit level five gave none.
Made it so that treeplanter's pots actually start growing if replanted while on a table. Reported here.
Fixed a bug by which natural cave galleries would report opening even if they triggered zero new tiles.
Made it so that positive feedback messages -- "Cuckmaster accepted your invitation" -- no longer have a "Cancel", button.
Fixed a bug by which a long distance plow-to command would not consume stamina. Also lowered stamina consumption from plowing with plows.
Fixed a bug with Shields not providing armor as advertised. Reported here.
Should no longer require trespassing to use stairs, fixing this.
Fixed a bug by which four lone sprouted seeds could not be planted.
Fixed four client bugs/crashes.
In the Pipe
-----------------------
UPDATE YOUR CLIENTS
, and...
Enjoy!