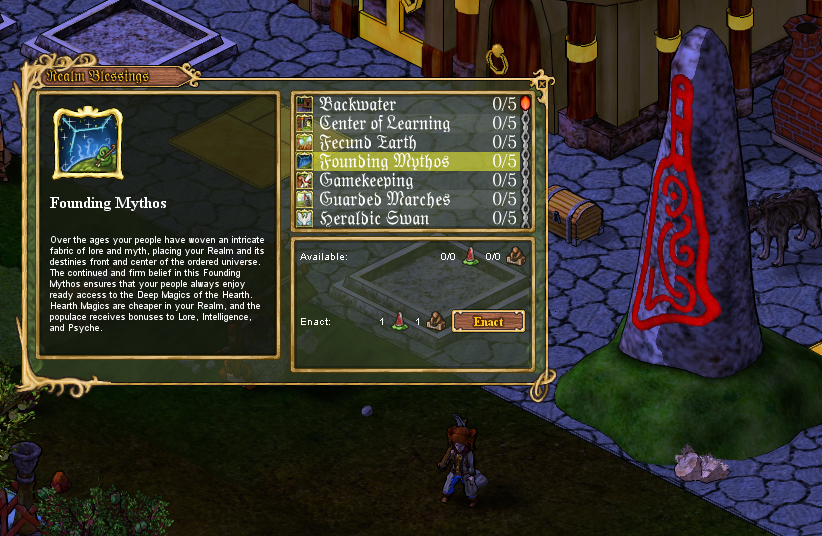 We've been developing, and here's what's new.
New Implementations
-----------------------
Reworked the Realm bonuses from Menhirs and Grotesque idols, from simple stat buffs, to a system of "Realm Blessings". Each Menhir and Grotesque Idol you construct now gain you points of those resepctive kinds, points which can then -- in the Realm management screen -- be used to enact specific policy decisions -- Realm Blessings -- which, in turn, provide specific and differentiated bonuses to your Realm. Each Blessing has five levels. The Blessings currently implemented are:


Backwater:

The Realm is a bit of a Backwater, but your people take pride in that, and the wilderness breeds a hardy folk. Lettuce and onions grow faster; badgers, moles, and squirrels occur at higher qualities; and you also receive bonuses to your Strength and Survival values.


Center of Learning:

This Realm has become a center of learning, increasing the amount of Learning Points earned for studied curiosities within it, and also providing bonuses to Lore and Intelligence.


Fecund Earth:

Your Menhirs have been bloodied by many sacrifices to the Old Gods, and rich are in turn your rewards each harvest season. Wheat, Grapes, Flax, and Pumpkins all grow faster, and the populace also receives a bonus to their Farming Abilities.


Founding Mythos:

Over the ages your people have woven an intricate fabric of lore and myth, placing your Realm and its destinies front and center of the ordered universe. The continued and firm belief in this Founding Mythos ensures that your people always enjoy ready access to the Deep Magics of the Hearth. Hearth Magics are cheaper in your Realm, and the populace receives bonuses to Lore, Intelligence, and Psyche.


Gamekeeping:

With the institution of Gamekeeping, herd management and yearly culls, your Realm significantly improves the quality of its hunted game. Boars, Deer, and Moose all occur at higher qualities, and the populace also receives a small bonus to their Survival abilities.


Guarded Marches:

The edges and hinterlands of your Realm are always under careful observation by an organized levy of rangers and outriders. Challenges against your Border Cairns are more expensive.


Heraldic Swan:

The icon of the Swan Majestic features often and prominently within the heraldic tradition of your Realm, and the spirit of the bird has taken well to it. Wherever one wanders in your Realm, the most beautiful, noumenous, Swans, can be seen flocking.


Local Cuisine:

Your Realm has acheived some renown for its Local Cuisine, and the quality of its chefs. Food eaten within your realm gives additional Food Event Points, and the populace receive bonuses to their Cooking and Perception values.


Marriage of the Sea:

Your people's Marriage of the Sea is an ancient bond between your Realm and the elements. You have braved the blue beyonds, and plowed deep furrows along the lakes and rivers of the Hearthlands, ever chasing the next horizon. Fish are caught at higher qualities within your Realm, Ships are constructed at higher qualities, and your people receive bonuses to their Exploration, Will, and Swimming values.


Mountain Tradition:

Your people have lived near the roots of the mountains since the first settling, and heard the whispers of the Deep Things. Stone and Ore mined within your Realm is of increased qualities, and the populace also receive bonuses to their Smithing and Masonry abilities. Remember that the Realm must be extended to the cave levels to apply there.


Myth of the Bull:

Your people's conception of the origin of all things includes tales of the Starry Bull, thundering the Wild Hunt across the firmament of the Hearth, and livestock rearing has always been an important staple of your industries. Pigs, Sheep, Horses and Cows all have shorter gestation periods within your Realm.


Woodland Realm:

Your realm, under the careful guidance and attention of a people attuned to its needs and seasons, has become one of mighty oaks and deep forests. Trees and bushes grow faster in your realm, and plants and wildlife in your forests occur at higher qualities.


Whenever you enact of rescind a Blessing, there is a cooldown of one RL day before you can do so again.
Added "Woodsman's Ushanka", hat.
Key Fixes
-----------------------
Raised the upkeep cost of Menhirs and Grotesque Idols from 250 Authority per ingame day to 1000 Authority per ingame day, based on analysis of authorities currently being earned. Not entirely sure on what is actually reasonable and attractive costs, and open to input.
Small Fixes
-----------------------
Badger Hide and Wolverine Hide hang correctly on walls.
Eldeberries should now count as berries. Reported here.
Metal axe, metal shovel, scythe, sledgehammer, fyrdsword, hirdsword, b12axe and bronzesword now all require metalworking. Reported here.
Fixed a texture issue with hornblende's paving.
Bearcape and pickaxe should mount better on wall, reported here.
Unkempt hairstyle no longer bleeds through Sherlock's and Sheriff's hats.
In the Pipe
-----------------------
Push-out is still loftar's main priority.
I had hoped to do more little things this week, but the Realm bonuses were a bit of a big deal. With that somewhat out of the way, however, I hope we can do a good old fashioned cleanup patch next week with some content implementations, bugfixes, and polish to existing mechanics. Hunting and death mechanics are at the top of my wishlist.
Enjoy!