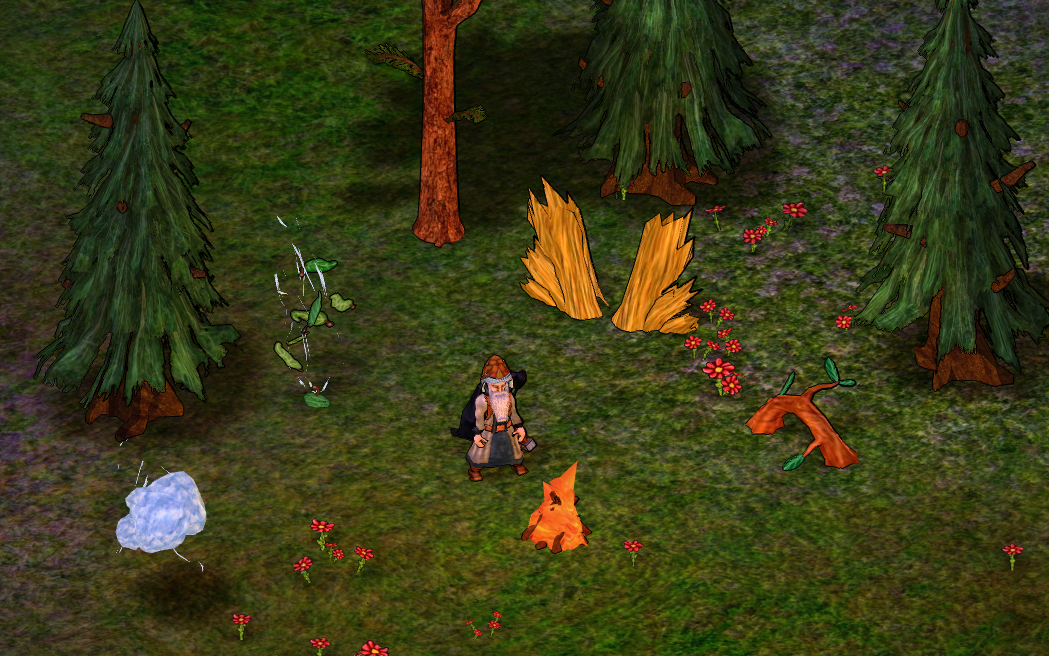 We've been developing, and here's what's new.
New Implementations
-----------------------
Environment boosts: Scattered across the environment there are now various kinds of buffs and debuffs that you can pick up -- by walking over them -- for temporary dis-/advantage.
Speed boost: You run faster for a spell, or until you stop.
Stamina boost: You replenish your stamina.
Trip Root: The root trips you over for a brief stun.
Hide Grass: You can dodge into the tall grass and become invisible for some time. You won't know yourself whether you are visible or not. Speed and movement increase your chances of becoming visible again. Attacking or the like breaks the invisibility.
The idea behind these implementations is to increase the amount of game involved in flight and pursuit.
Added "Raider's Cap", helmet.
Key Fixes
-----------------------
You now move faster while moving downhill, and slower while moving uphill.
Drinking no longer interrupts running. It does, however, reduce your speed somewhat.
"Red-handed" now instantly becomes "Outlaw" if you are knocked out, allowing you to hearth home, and the like.

You may now combine curiosities. By holding a curiosity and right-clicking another one of the same kind, you may fuse them into one, more powerful curiosity. The new curiosity will increase in LP, but also somewhat in time, weight, and XP.

EDIT: Ninja removed this due to crazy. Will think it over again.
Small Fixes
-----------------------
Better light in cellars.
Buffed Druid's Helm armor values.
You may now plant Poppy caps in burrows, as suggested here.
In the Pipe
-----------------------
Enjoy!