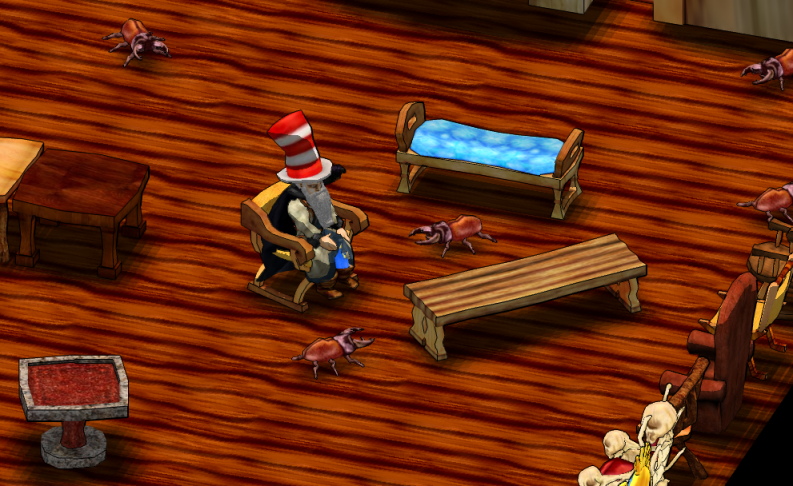 We've been developing, and here's what's new.
New Implementations
-----------------------
Pushed the push-out mechanic! Finally! This glorious piece of awesome has been long in the making... six months-ish? But thanks to loftarian perseverance here it is. Testing has been limited, and this is an invasive change which is fairly certain to produce some crashes and nonsense before all bugs are found and sorted out, but those things aside I've found it playing out quite wonderfully. The basic point is that your player character no longer clips hard, and stops, on corners and edges when walking into things, but rather is gently pushed out and around them, making for a significantly more pleasant and less click-spammy experience when walking around, as objects only stop your player if you click to walk directly behind them. Do note that push-out does not work for mounts yet, but that will hopefully be fixed before too long. Possibly the biggest QoL change in forever if it works out.
Added "Arched Chair", chair.
Added "Long Bench", bench.
Added "Cushioned Bench", bench.
Added "Stag Beetle", little forest buddy.
Crab meat can now be roasted as other meats, and can no longer be eaten raw.
Key Fixes
-----------------------
Found a more elegant termination condition for when moving and drinking. Character shouldn't drink unnecesarily and forever now.
Removed trip roots, hide grass, and stamina boosts, and reduced the spawn values for speed boosts. We still like some of the ideas, but decided to tone it down, on account of clutter and, idk... particularity, for now at least.
Can no longer swim and drink. Wolf cape awarded to jorb.
Small Fixes
-----------------------
Man should now visibly drink while moving.
Raven's Bite cooldown now correct in description text.
The intended purchase in the abilities screen will now be reset when you actually do purchase a higher level.
Cape animations should now follow character better when combining animations like, for example, running and drinking. Feel free to report if it looks crazy somewhere.
In the Pipe
-----------------------
With push-out fixed -- which, if it indeed is, feels awesome -- our most likely next big target is some larger rendering rewrites for promising client optimizations!
Update your clients
to avoid some potential visual artefacts when moving, and...
Enjoy!