We've been developing, and here's what's new.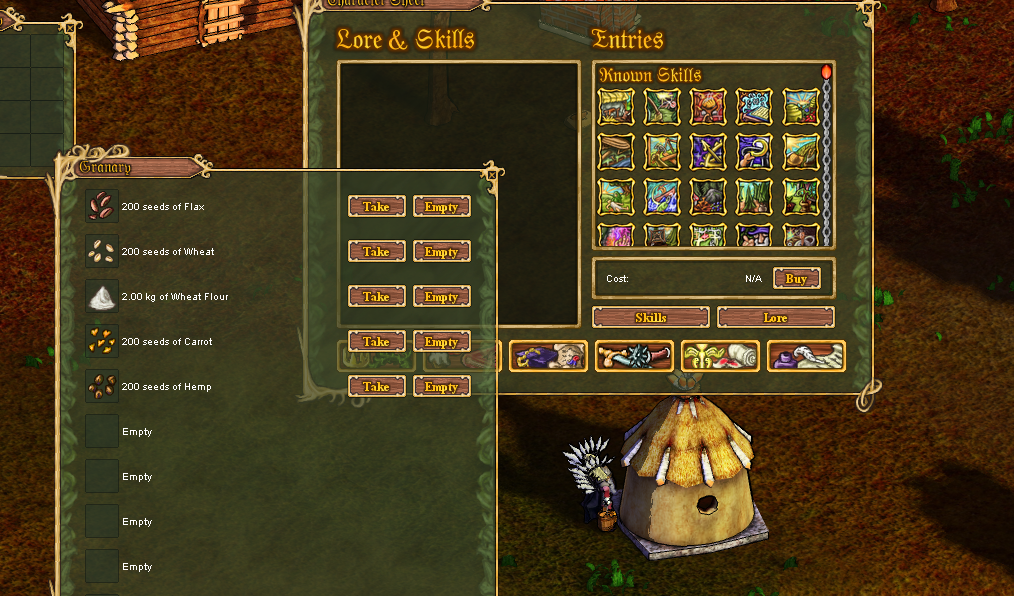 New Implementations
-----------------------
Remade the skill and lore views in the character sheet to a grid of icons, rather than a list. Partially because it felt better, and partially to remove the "Available/Known" buttons in favor of an upcoming project of ours. Let us know what you think!
Took some time to redesign the granary UI. Granaries now hold up to ten types of seeds and other relevant substances, in a specific UI with as many different slots. You may divide the total volume of the granary any way you see fit over the ten slots. If you carry a barrel overhead the "Take" and "Put" buttons for the slots will reference said barrel. Suggested here. Also made it so that you can store flour and grist in granaries, as suggested here.
Added "Hand Impression", curiosity. Discussed here.
Added "Peapod" stockpile. Suggested plenty.
Added the ability to roast chestnuts in fireplaces and ovens. Suggested here.
Added "Strawberry Cake", suggested here.
Added "Honey'd Bear", suggested here.
Small Fixes
-----------------------
Recipes made with the pork meat buff should now be better. Suggested here.
Added an explicit warning when you begin to starve. Suggested here.
Reduced the quest goal to "Eat until full" to "Eat until healing" in the introductory quest.
Fixed a bug by which jumping over a series of boats would activate swimming.
Ore stockpiles now hold 75 units, and cloth stockpiles hold 40. Discussed here.
You can no longer ride down small fliers (ducks) when airborne. You can no longer ride down swans at all. Fliers also now fly over ridges. Reported here.
You can now stack and combine matchboxes, back up to a maximum of whatever the matchbox you combine into was created as. We thought this was funny. Suggested here.
Fixed a bug by which it was possible to plant several trees in the same spot.
Can now shift-click to plant tree-seeds and pick up a new one.
In the Pipe
-----------------------
UPDATE YOUR CLIENTS
...
Enjoy!