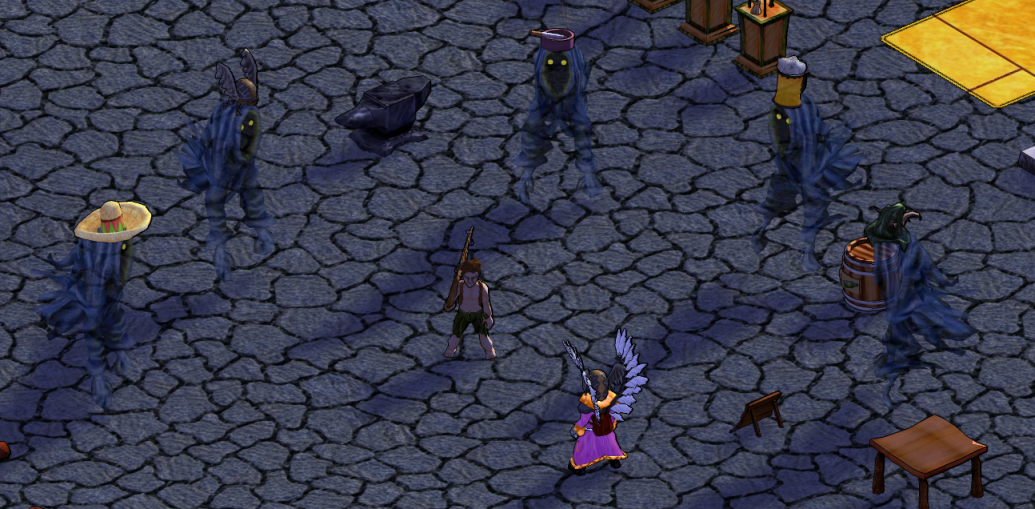 We've been developing, and here's what's new.
New Implementations
-----------------------
Made it so that you can now put hats on Nidbanes, by holding a hat, and right-clicking the Nibane as it travels to its target. The hat will drop to the ground when the Nidbane dies, and then functions as any hat would. You cannot otherwise retreive the hat while the Nidbane still lives. If the Nidbane is successful it will try to return the hat to its Dolmen. Mileage may vary on how well the hat actually sits on the Nidbane. Critical suggestion made here.
Added "Exquisite Belt", belt, contains 2x2 tools. Also made it so that this belt, and the old "Grand Belt", can both be unequipped even when they contain tools.
Added "Woodsman's Axe", chops trees faster. Suggested here.
Added Cucumber stockpile.
Added Hopcone stockpile.
Added "Cucumber Salsa", food.
Key Fixes
-----------------------
Fixed a peculiar bug by which being in combat with a Nidbane would crash the client. No idea why it hasn't been reported before, or if I've missed it, or if we somehow introduced it now, or what.
Made it so that you may now build Mineholes in cellar.
Small Fixes
-----------------------
Should now, when mining, better determine which tile the character should walk to depending on where you clicked to mine.
Made it so that you can tether animals to mine supports and stone columns. Suggested here.
Made it so that Adder bites peak at somewhat random sizes, rather than deterministically.
Buffed Wonderful Wilderness Wurst significantly. Suggested here.
Buffed Patterend Embroidery. Suggested here.
Buffed Enthroned Toad. Suggested here.
Buffed Golden Tooth, and Deer Antlers.
Buffed Buttersteamed Cavebulb. Suggested here.
Anyone with vandalism permissions on a claim may now destroy Hearth fires on that claim. Suggested here.
Added a short timer when emptying barrels/cisterns, to prevent volatility.
Made it so that you may now place waterskins and flasks in toolbelts. Suggested here.
Added one piece of string to Bunny slipper recipe, as suggested here. (Forgot to push this change. Will be fixed next server restart).
You may now inspect tar kilns to find out how long they have left to burn. Suggested here.
Lucky Rabbit's foot can be placed on walls.
In the Pipe
-----------------------
Small patch, as we've spent most of our dev time this week on that same bigger thing(tm) hinted at in the last patch.
The main dev focus is the client rendering rewrite.
I'm considering following up on this suggestion, and make palisades bashable if the claim shield is down. Let me know what you think!
Time to... like us on Facebook?
Enjoy!