We've been developing, and here's what's new.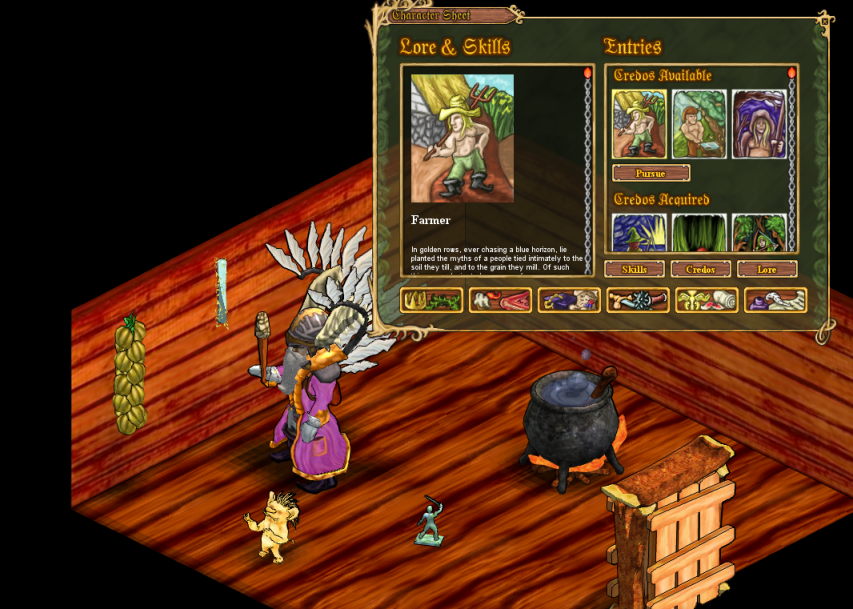 Credos
-----------------------
We have primarily implemented a few new credos, which depend on the previously implemented ones.

Farmer:

In golden rows, ever chasing a blue horizon, lie planted the myths of a people tied intimately to the soil they till, and to the grain they mill. Of such things you desire to learn more, for you are becoming a Farmer, and within you now shoots leaves of wisdom, of the seasons, and of the plants, and of all the things which grow. In the creaking of sprouting roots you have heard stories of how the world seed was once planted by the old gods, long before a moon was yet hung over the Hearth to light it. In the pod of a pea, you have seen strange and ancient runes, telling of the world's coming end and ruin. A wind that shakes the barley calls you onward to gather further insight. Plowing the Farmer's Furrow promises...




Farming +15
Quality bonus when milking.
Faster crop growth.
Increased crop yield.
Farming +50

Lumberjack:

For some time you have wandered among the great spires of woodlands free and wild, with a splinter in your soul tracing the contour of your ever increasing desire to prune and guide them to more proper forms. In the splitting of logs you have heard the cries of new shapes dreaming to be hewn free, and in the gleam of axe and fire you have seen a wholesome light with which to burn and chase away the shadows of an untended wilderness. You have heard told that, when the World-Tree first sprouted, the Old Gods placed the first Lumberjack on guard over it for all nights and days, until the end of time, when he alone will know the proper time to fell the great tree, and sunder the Hearth. To ply the Lumberjack's trade is to learn the shapes and courses of the various woods and trees, their marblings and colorations, kinds and seasons, and how to best put those to use. Cutting the Lumberjack's Timberline promises...




Lore +15
Increased cutting speed of trees and logs.
Carpentry +20.
Increased board and block yield from logs.
Strength +25

Mystic:

You have stared for long longingly into depths of ocean and forest, and much contemplation of the things high and low have led you down darker, more brooding paths, and your thoughts have for some time carried an otherworldly air. You walk now always in a shadowland, somewhere in between dream and awakening, where the currents of Hearth magick run close to the ground, and with your third eye always open to the vast, universal distances around you. The Mystic seeks wisdom and understanding, and in thought and deed affinity, and communion, with the woodland spirits, and with all the presences and potentialities of nature. The sagas speak of three Norns, old and wise, who weave the fate silk of all hearthlings, and who know where each and every thread runs out. Dreaming the Mystic's Dream promises...




Will +15
Lore +20
+5% study speed.
+10% experience gain.
Hearth Magic cost reduced by 10%
New Implementations
-----------------------
Added "Glue Troll", curiosity.
Added "Onion Braid", curiosity.
Added "Potent Rod", curiosity.
Added "Onion Salad", food.
Added "Rough Guard Patch", gilding.
Key Fixes
-----------------------
Fixed the bug by which it was possible to drink -- and whatnot -- from toolbelts even while said toolbelts were not equipped, or even in chests far away.
Made it so that the number indicating number of gilds in a piece of equipment now also indicates whether the equipment is closed to further gilding, by changing color from a light blue to white. I.e. Light blue text means that a piece of equipment can be gilded further.
Small Fixes
-----------------------
Remembered to turn off permanent winter mode. Snow should now melt.
Made it so that quests which ask you to catch a small animal now checks for rightful first acquisition from nature, rather than allow various pre-caught critters in boxes to count.
Fixed the bug by which quests which asked you to defeat Swans and Adders failed to check properly. Reported various places.
Pumpkin pies now satiate "Bread".
Fixed a small bug in the LP determination of Gold Eggs, which made them worse than intended.
In the Pipe
-----------------------
Mainly some more Credos this patch, but we have several bigger things(tm) up and coming, so we're in a pretty good place creatively!
The main dev focus is the client rendering rewrite.
I'm (still) considering following up on this suggestion, and make palisades bashable if the claim shield is down. Let me know what you think!
Time to... like us on Facebook?
Enjoy!