We've been developing, and here's what's new.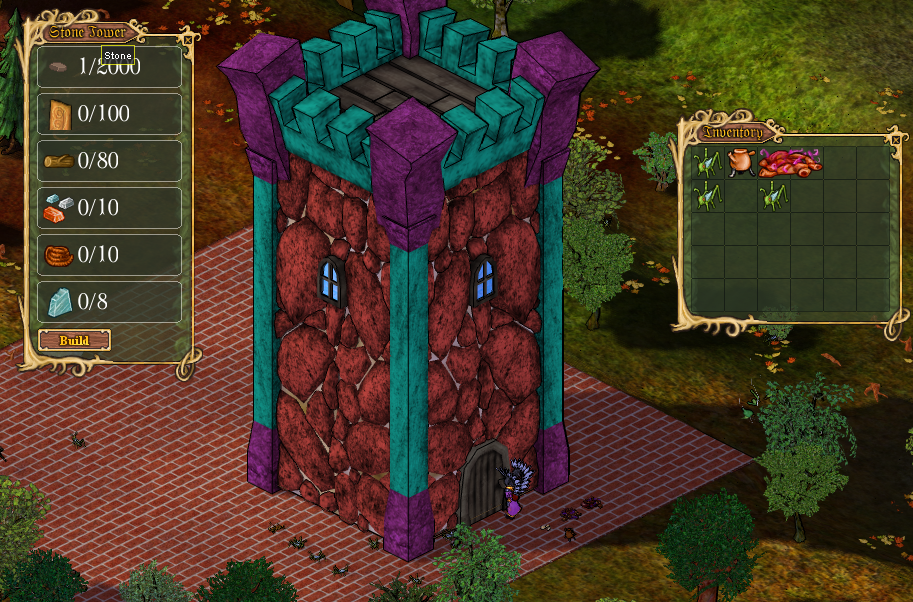 New Implementations
-----------------------
Added a new preview system when building things with variable materials. Hovering over a build window for an object using variable materials will now display a greyed out version of the finished object as a preview. Hovering further over an actual input slot in the build window will, if the input slot is used to determine the materials for some part of the object, highlight those part(s) with a monochrome (red, teal, purple...). If the build slot is used to determine several parts, each of them will be colored in a color of its own. The preview colors are always in consistent order of precedence, i.e, the most prevalent item type used for a slot will determine parts highlighted in red, the second most prevalent item type determines the teal parts, and the third the purple parts. I don't think there is a case yet where a material slot determines more than three parts of an object. Discussed and suggested here.
Added "Grasshopper", kritter.
Added "Roasthopper", food.
Added "Dream Cookies", food.
Added "Grand Haruspex", curiosity.
Added "Snakeskin Stripes", gilding.
Added "Copper Kettle", symbel item.
Added "Uncrushed Husk", curiosity.
Added one new experience/lore event.
Credo
-----------------------
Quarryman:

You have sat with the mountain until only the mountain remained, and for some time a fissure has grown down the straight and narrow of your worldview, in challenge, threatening to rend it in twain with the terrible blow of a new experience suffered. Your dreams have grown rigid, and angular, and you see the world around you as hewn in stone, and seek now to remake it again in that image. The Quarryman knows the taste and turns of the mineral world, and the names of all the stones and rocks which weave it. From the depths of the mountain an ominous note calls you to think and act like quartz, like granite, and like the blackest, most cunning, obsidian. Some say that the roots of the mountain are older than even the Old Gods themselves. Cracking the Quarryman's Crevice promises...




Lore +15
Masonry +20
Increased stone chipping speed and mining strength.
Strength +20
Increased baseline quality of rocks hewn.
Key Fixes
-----------------------
Made it so that you should no longer, unless explicitly intended, receive quests to underground quest givers.
In the Pipe
-----------------------
The main dev focus is the client rendering rewrite.
Happy about the preview system! We also intend, in the future, to make it so that you can hold items over the input slots to see previews of what the held item's materials would actually look like as applied on the preview.
We are considering making it so that you, using a store sketch, can reset a variable material slot on an already existing building to a material of your choice. Let us know what you think about that!
I'm (still) considering following up on this suggestion, and make palisades bashable if the claim shield is down. Let me know what you think!
Time to... like us on Facebook?
UPDATE YOUR CLIENTS
... to fix a minor offset bug.
Enjoy!