We've been developing, and here's what's new.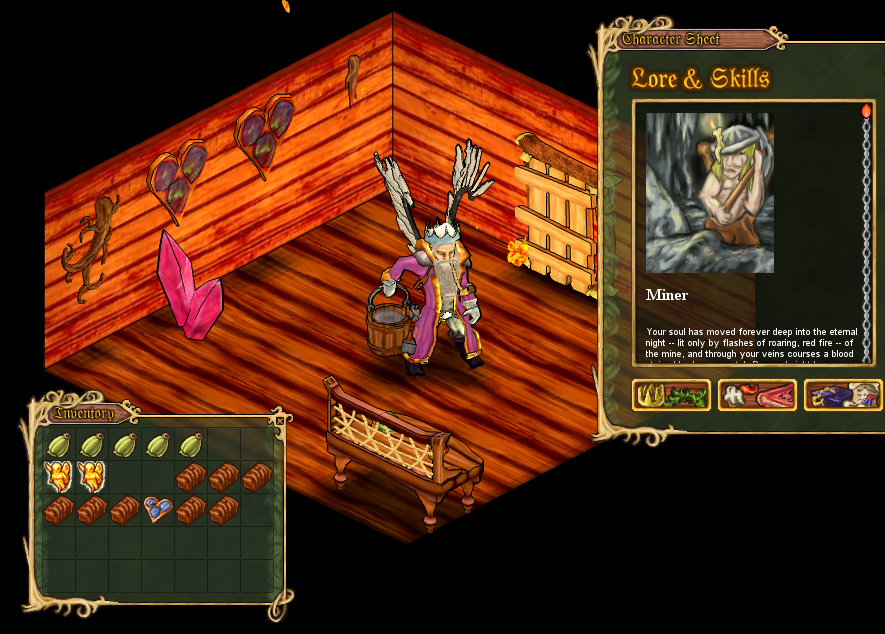 New Implementations
-----------------------
Added "Irrlight". Occasionally when dealing with fire, an igneous sprite may appear and flutter about. Mostly cute, but it can be studied, and used to light fires.
Added "Pyrite Spark". Two pieces of pyrite can be used to strike a spark. The spark lasts while held, but is extinguished when it lights something.
Added "Cruel splinter", curiosity received occasionally, accompanied by some wounds, when chopping wood or trees.
Added "Lingon Loaf", bread.
Added "Stained Glass Heart", curiosity, wall decoration.
Credo
-----------------------
Miner:

Your soul has moved forever deep into the eternal night -- lit only by flashes of roaring, red fire -- of the mine, and through your veins courses a blood stained by heavy metal. Day and night have begun losing their meanings to you, and your senses have grown acutely tuned to a life subterranean. You live every moment to go deeper and further down, down toward deep and deeper veins, where the roots of the mountain claw their way into the Underworld, and where the caverns echo with trollish laughter. With every snapping of the tendons, and every strain of muscles aching, you drive your pick through the eternal cavern, ripping the treasures of the deep to that surface far above which you so seldom see, and hoping to strike for the Mother Lode. The mountain whispers to you of a time before the Old Gods. Descending the Miner's Shaft promises...




Strength +15 & Masonry +15
Significant chance to localize caveins.
Ore mined smelts faster.
Chance to pulverize tiles when mining.
Increased baseline quality of rocks hewn.

Miner depends on Quarryman.
Key Fixes
-----------------------
You may now hotswitch items hung on walls. (I.e. simply right click a wall-segment with something on it with another item to switch the two).
Small Fixes
-----------------------
You can now use Everglowing Embers to light fires, with a chance that they are extinguished to become normal coals.
Herbalist tables should now display Poppy pods properly.
Added som visual fur to Red Deer.
Wondrous Woodshave, Strange Root & Rock Crystals can be hung on walls.
Blueberry Pie satiates Berries, rather than Game.
Buffed Strange Root, Crude Idol, Seer's Tealeaves & Strange Crystal, qua curiosities.
Hotkeyed items can now be equipped from the inventory by activating their hotkey.
Fixed a bug with hotswitching equipped items by which secondary items would sometimes not be switched.
Added food crafting buffs to different kinds of water. Normal water is neutral, but spring water now improves food cooked with it, and we may be looking to add more kinds of water down the road.
In the Pipe
-----------------------
Small patch, as we have begun working on something more significant, which might be a few weeks in the making. Will hopefully be cool, though!
The main dev focus is the client rendering rewrite.
I'm (still) considering following up on this suggestion, and make palisades bashable if the claim shield is down. Let me know what you think!
Time to... like us on Facebook?
Enjoy!