We've been developing, and here's what's new.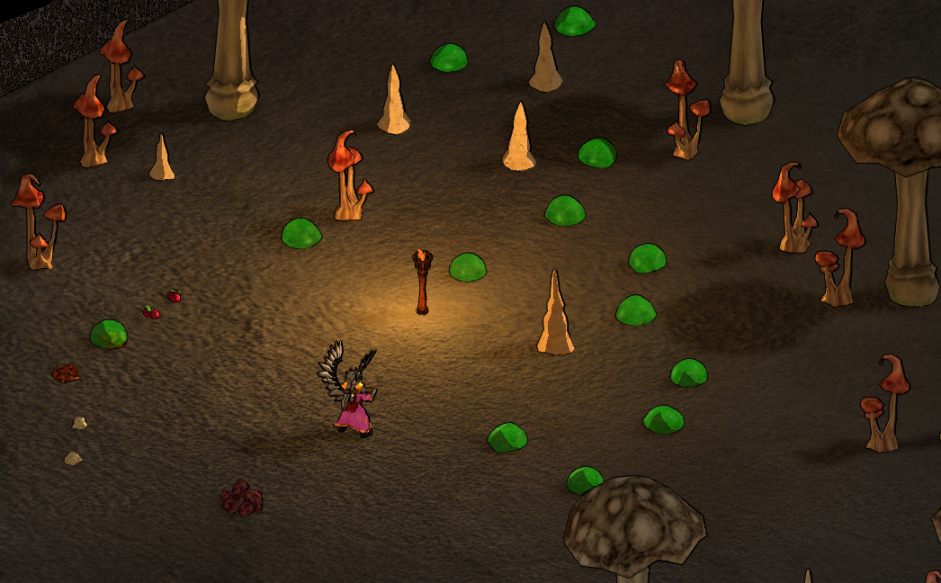 New Implementations
-----------------------
Added "Cave Slimes". In an ongoing project we like to think of as the militarization of the Underworld, we've added Cave slimes: Amorphous blobs of cave jelly which, mildly aggressive, move around in caves. They get more common and dangerous the lower you go, but should be very rare on the first cave level. They sometimes appear when mining. Fun times!
Your level of Charisma now increases your rewards when questing. Hey, look, an actual use for it!
Added "Hot Wings", food.
Added "Fruit Sorbet", food.
Added "Curd'n'Chives", food. Suggested here.
Small Fixes
-----------------------
Cast rod fishing now memorizes whatever fish you aimed for with your last throw, and auto selects that for the next one, if you select nothing else.
Chiming Bluebell counts as a flower.
Added input type for opium.
Added a small flame effect when lighting firebrands or pyrite sparks.
Dropping a pyrite flame often creates an Irrlight.
Applying wallpapers is now crime of vandalism. Reported here.
Fixed a bug with the ore smelt time buff from the Miner credo.
Added an error message when trying to attune a key to a lock to which it already is attuned.
You may now inspect gates to find out whether they have locks on them or not. Suggested here.
In the Pipe
-----------------------
Tiny patch, as we have almost entirely been working on that something more significant hinted at in the last patch, which might (still) be a few weeks in the making. Will (still) hopefully be cool, though!
The main dev focus is the client rendering rewrite.
I'm (still) considering following up on this suggestion, and make palisades bashable if the claim shield is down. Let me know what you think!
Time to... like us on Facebook?
Enjoy!