We've been developing, and here's what's new.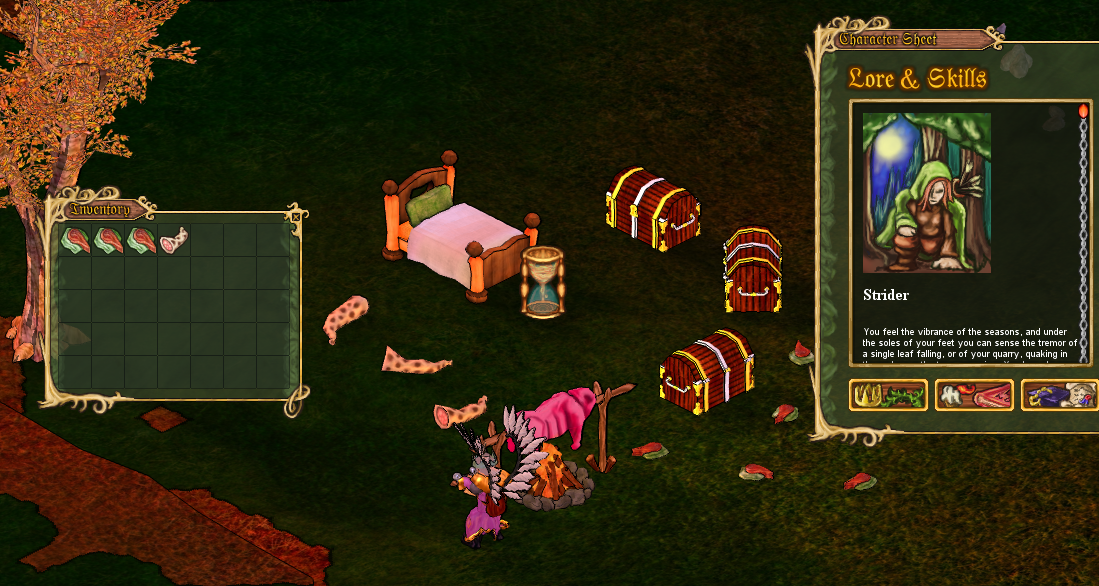 New Implementations
-----------------------
Added the ability to spitroast large animals. You may now carry an intact dead animal -- should be all except Trolls & Mammoths -- and put them on a roasting spit by right-clicking the spit. We also made it so that the quality of the spit influences the end product, and that goes for small animals as well.
Added "Exquisite Chest", container.
Added "Meat-in-Jelly", food.
Added "Moodog", sausage.
Credos
-----------------------
Strider:

You feel the vibrance of the seasons, and under the soles of your feet you can sense the tremor of a single leaf falling, or of your quarry, quaking in the undergrowth at your passing. You have long wandered the Woodland Hearth, and your trade has grown to become that of a frontiersman in it, making a living in forestry, fishing, and hunting, and thus you have become a part of the wilds -- and they of you -- to the point that you now move nigh effortlessly in them, over root and crag, flowing almost like a river. They say that the first Strider was the Moon itself, racing the Sun across the firmament. Taking the Strider's Stride promises...




+50% Swimming.
Traverse ridges faster.
Quality bonus on wild animals killed.
Reduced stamina drain from running in forests.
+15% damage with ranged weapons.

Strider depends on Fisherman and Lumberjack.


Cave Hermit:

The surface of the Hearth has grown but a distant memory, and the waves of history may wash whichever ways they please, far above in that raging, tumultous world of light and day. Your world has become another, calmer, darker, deeper, and more ancient one, of peace and meditation, far below in the cool and pitch of the deepest caverns, where Hearthling sight fades, and other senses grow instead to terrible powers. You spend your nights eternal far down, down near the roots of the Mountain, in the musk of cavebulbs, with a touch of slime, and the haunting symphonies of a thousand bats screeching in awful symphony. Your ways are those of stone, and of thought, and of communion, ultimately, with the dark of the cavernous Underworld. Staring into the Cave Hermit's Abyss promises...




Significantly increased risk of mining out trolls.
Ability to eat Stalagooms & Cave Slime.
+3% study speed per cave level you descend.
Deal 5% extra damage per cave level you descend.
Trolls no longer attack you.

Cave Hermit depends on Miner and Mystic.
Key Fixes
-----------------------
Made it so that sleeping in Beds heals wounds faster, and more so the more quality the bed has. This works by effectively burning through the wounds and their effects faster, so infected sores may, for example, grow faster from this, as they simply check for growth or reduction more frequently.
Fixed a bug by which Adder bites could cause death in an uninteded way.
Small Fixes
-----------------------
Fixed a bug by which branding irons would go cold if left in a fireplace.
You may now inspect a Charter Stone to see the name of it.
Reduced the spawnrate of Cave Slimes.
Batches of mined out Cave Slimes should no longer all attack at once and instantly.
In the Pipe
-----------------------
Small patch, as we have also been working on that something more significant hinted at in the last couple of patches, which might (still) be a few weeks in the making. Will (still) hopefully be cool, though!
The main dev focus is the client rendering rewrite.
I'm (still) considering following up on this suggestion, and make palisades bashable if the claim shield is down. Let me know what you think!
Time to... like us on Facebook?
Enjoy!