We've been developing, and here's what's new.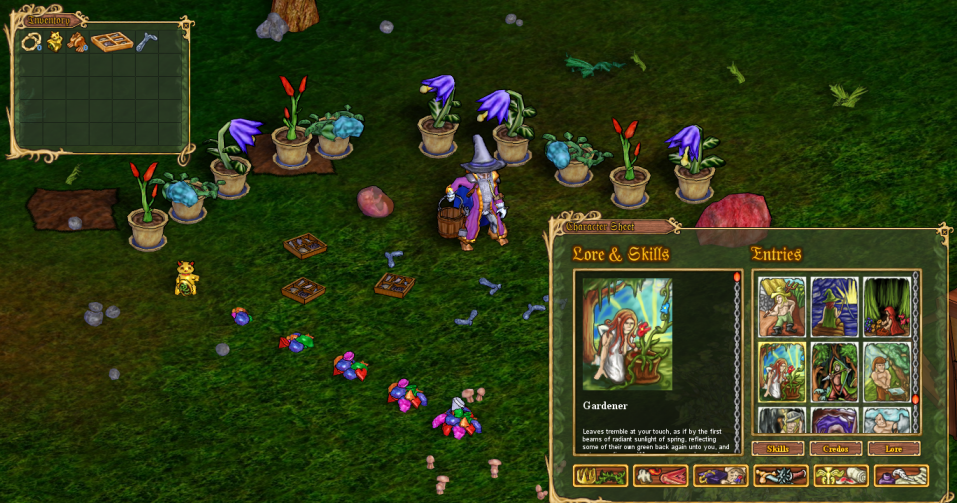 New Implementations
-----------------------
Added "Beast Ring", ring.
Added "Fossil Collection", curiosity.
Added "Golden Cat", curiosity.
Added "Petraglyph", curiosity, gilding.
Added a new curio which you can discover for yourselves.
Added gemstone stockpile.
Credos
-----------------------
Gardener:

Leaves tremble at your touch, as if by the first beams of radiant sunlight of spring, reflecting some of their own green back again unto you, and unto your fingers. Wherever you wander, seeds appear to sprout from under your feet, and the touch of your naked soles restores life to dying grass. The secrets of all the things which grow are known to you, and you trace the threads of life and death in the contours and growth lines of grass and leaves. Your dream, as a Gardener, is to prune and guide the exuberant abundance of wild life into the pleasant and considered archetypes of a well kept garden. The myths speak of how all the Hearth once poured forth from a single seed. Climbing the Gardener's Stalk promises...




Can plant Blood Sterns, Farming +5
Can plant Cavebulbs, Farming +5
Halved soil and water required for gardening pots.
Can plant Chiming Bluebells, Farming +10
Doubled yield from gardening pots..

Gardener depends on Farmer.
Key Fixes
-----------------------
Gemstones should now display properly on study desks, barter stands, and display signs.
Small Fixes
-----------------------
Occult Ring now buffs Psyche, rather than Perception, as was originally the case.
Added a tooltip to opium, indicating what wounds it heals.
In the Pipe
-----------------------
Small patch as we have also been working on that something more significant hinted at in the last couple of patches, which might (still) be a few weeks in the making. Will (still) hopefully be cool, though!
The main dev focus is the client rendering rewrite.
I'm (still) considering following up on this suggestion, and make palisades bashable if the claim shield is down. Let me know what you think!
Time to... like us on Facebook?
Enjoy!