We've been developing, and here's what's new.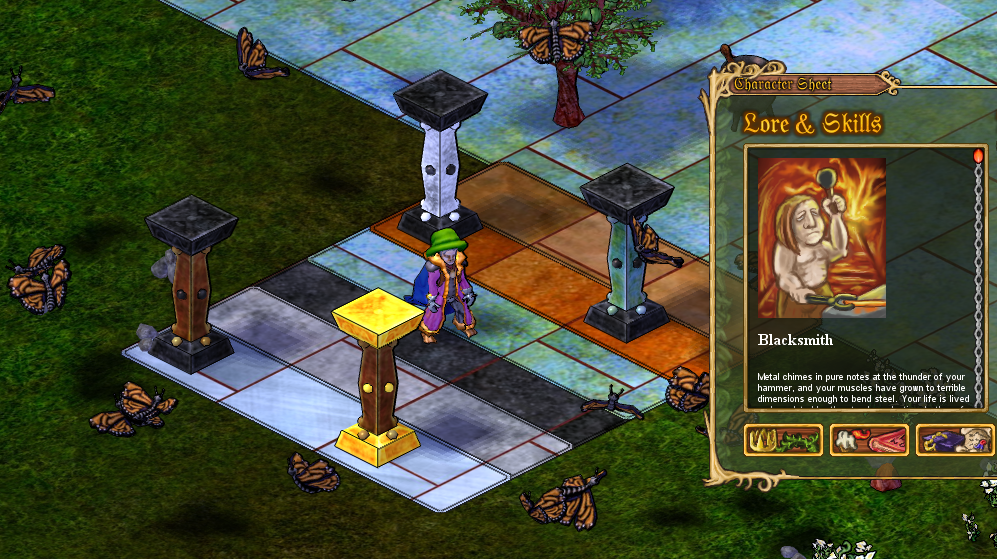 New Implementations
-----------------------
Added "Monarch Butterfly", minor creature, curiosity.
Added "Mine Beam", metal mine support.
Added "Swan Neck", sausage.
Credos
-----------------------
Blacksmith:

Metal chimes in pure notes at the thunder of your hammer, and your muscles have grown to terrible dimensions enough to bend steel. Your life is lived and regulated by the steady, pulsating rhythm of pounding hammers, and heaving bellows, drawing the heavy sighs of hot, soot-filled, air, rushing again away to feed ever hungry, ever burning, furnaces, mirrored in reflective pools of molten metal. You know the stuff which makes up all the Hearth -- earth and wood -- and how to slake their thirsts for metallic forms in the glowing fury of white-hot flames. The Firmament of the Hearth was pounded thin as a flake, and hung high over the Hearth, by the Creator, from a single silver nugget. Pounding the Blacksmith's Anvil promises...




Strength +15 & Smithing +15
Small quality bonus to all fuel added to Smelters and Finery Forges.
Higher chance to increase quality when pounding Wrought Iron.
Small quality bonus when smithing.
Small chance to double output when smithing.

Blacksmith depends on Lumberjack and Miner.
Key Fixes
-----------------------
You may now ride with your saddlebags open.
Small Fixes
-----------------------
You may now combine substances (e.g. flour) without interrupting other actions.
Bones and Bone Ash are now compostable.
Emotes should now reorient character properly while on horse.
Added an icon to Learning Ability bonuses, which should now display on items increasing it (e.g. Pearl Necklace). The format is a bit off, but you can compare them, at least.
While carrying an item on-hand, you may Ctrl + Right-Click to open containers and gates.
Fixed a minor bug with the Gardener soil bonus.
In the Pipe
-----------------------
Small patch as we have also been working on that something more significant hinted at in the last couple of patches, which might (still) be a few weeks in the making. Will (still) hopefully be cool, though!
The main dev focus is the client rendering rewrite.
I'm (still) considering following up on this suggestion, and make palisades bashable if the claim shield is down. Let me know what you think!
Time to... like us on Facebook?
Enjoy!