We've been developing, and here's what's new.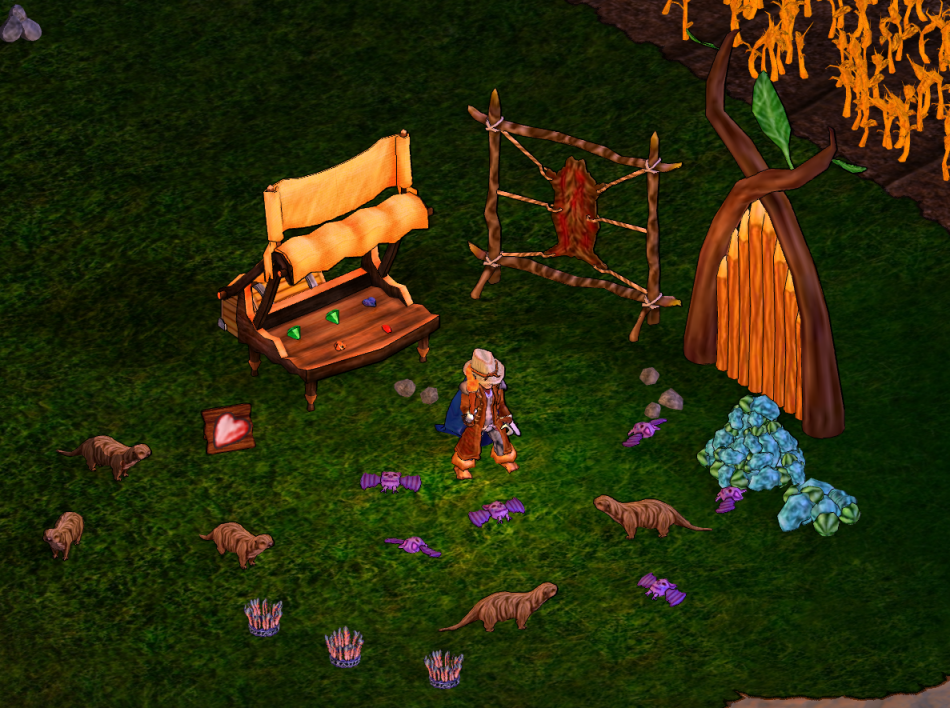 New Implementations
-----------------------
Added, by popular request, Otters! Derpy little water dweller that swims around. Mostly harmless!
Added, by popular request, "Feather Band", hat.
Added "Plush Bat", curiosity.
Added stockpiles for everything... starting with cavebulbs.
Key Fixes
-----------------------
Fixed item/object displays for gemstones relative display signs and barter stands! Phew! Also improved the update logic for barter stand graphics when purchasing things from the stands.
Fixed an obscure bug by which traveling along roads could allow you to cross gates.
Avatars now work on the account page again. How awesome is that?
Small Fixes
-----------------------
Cavebulbs now count as tubers, and are accepted, with a unique food buff, by recipes asking for tubers.
Added Wallpaper previews for custom graphics uploads.

As always, if you liked what we did here: Support the patch.
Today's Patch Item, for the fair price of $10, is the "Safari Hat".
Store Description wrote:

$10

Many wild creatures roam the Hearthlands, and what better way to take in the sights than decked out in a stylish Safari Hat?
All Gold and Silver Subscribers have been provided the Safari Hat free of charge.
In the Pipe
-----------------------
Small patch as we have also been working on that something more significant hinted at in the last couple of patches, which might (still) be a few weeks in the making. Will (still) hopefully be cool, though! Apologies that this is taking time, but there's a lot of new systems and groundwork required. We're making progress.
The main dev focus is the client rendering rewrite.
I'm (still) considering following up on this suggestion, and make palisades bashable if the claim shield is down. Let me know what you think!
Time to... like us on Facebook?
Enjoy!