We've been developing, and here's what's new.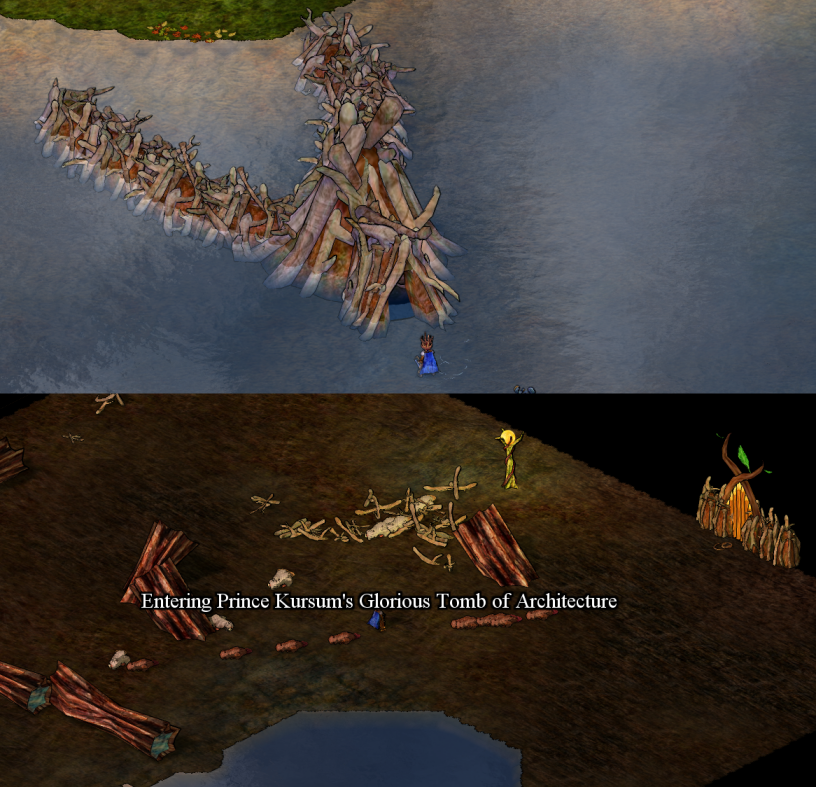 Beaver Lodges
-----------------------
We've finally gotten to the point where it feels meaningful to finally release that Bigger Thing(tm) which we have been advertising for some time -- some of you even
guessed and got it right
! -- and here it is: Beaver Lodges!
Scattered across the map are, and will spawn anew, Beaver Lodges. Beaver Lodges are love, and Beaver lodges are life. Beaver Lodges are where beavers lodge, and that is to say vast, sprawling, underwater complexes of rooms, corridors, and great halls, laden with beavers and things beaver. Beaver Lodges are also but the first instance of a new type of natural phenomenon which we more generally think of as "Dungeons", and of which we plan and hope to add more of other and varying types. The concept should be self-explanatory to anyone who has ever played an RPG before, but basically the gist of it is that Dungeons are little levels that you can fight and figure your way through with hopefully rewarding encounters and l3wts along the way.
Adding this has felt pretty meaningful, in the sense that it feels as if the sky truly is the limit for the kinds of high-end, much vaunted "endgame", stuff we could do with it in the future, and the things that have taken a lot of the time we've spent on it is groundwork things like being able to generate dungeon worlds with connectivity at all, and such, so adding new Dungeon types -- Bear Dens, Badger Setts, Bat Caves, &c -- in the future should at least be less work. The Beaver Lodges are perhaps underdeveloped, but mostly because there's so much we could do with them.
I'm sure combat is trivial to all the high-rolling vets I'm sure you all are by now, but the n00bs among you may want to tread carefully when knocking down Mr. Beaver's doors.
We'll leave the details for you to explore for yourselves, but there's at least some decent amount of new content in there to be found!
Very excited to drop this, and doing so also marks both the the tenth anniversary of Haven's development, and the 100th patch -- in my official count, at least -- since we released the new version of the game.

As always, if you liked what we did here: Support the patch.
Today's Patch Item, for the fair price of $5, is the "Bluebucket Hat".
Store Description wrote:

$5

Dress dapperly in this the beach tourist's timless blue icon of style and flair.
All Gold and Silver subscribers have been awarded the Bluebucket Hat free of charge.
In the Pipe
-----------------------
With dungeons finally deployed, we now intend to spend the coming weeks before Christmas on some polish, bug fixes, nice things, and perhaps holiday specials -- we aim to patch on both the 13th and 20th -- before heading out for some R'n'R over Christmas and New Year's ourselves.
The main dev focus is the client rendering rewrite.
Time to... like us on Facebook?
Enjoy!