We've been developing, and here's what's new.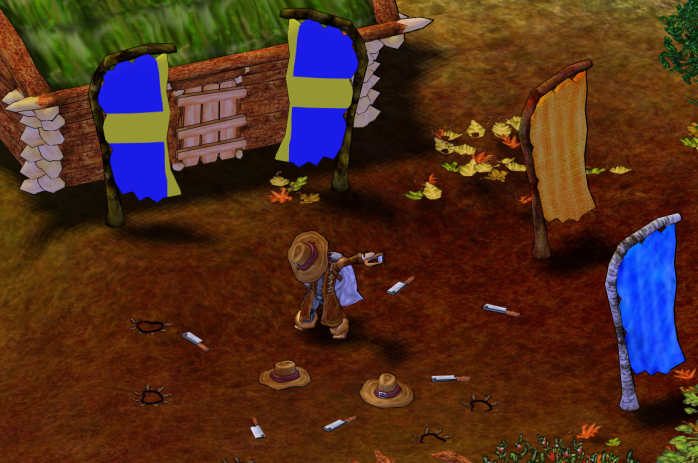 New Implementations
-----------------------
Added "Standing Flag", flag. Custom Graphics can be applied.
Added "Swan Feather Cape", cape.
Added "Butcher's Cleaver", axe which butchers fast.
Added some animations when slaughtering animals.
Added "Batwing Necklace", curiosity, wearable.
Added, by popular request, "The Dab", emote.
Key Fixes
-----------------------
Eviction from plots now works on a timer. Whenever you are evicted from a plot, you get a 30s countdown, indicated by a debuff. When the debuff runs out, you are either sent home or knocked out, as now. Hopefully this makes the effect somewhat less corrosive in combat situations.
There is now a toggle to prevent your character from passing through visitor debuffing gates. You can use this, for example, when you wish to smash such gates. Note that this is not a perfect toggle which will always and necessarily prevent you from receiving visitor debuffs. What it does is prevent you from walking through visitor debuffing gates.
Beavers spawned in dungeons -- i.e. those which appear while clearing a room, as opposed to those already in the room when you enter it -- decay very quickly, and yield no loot. Perhaps too harsh?
Unspent XP pools are now inherited, at the usual penalties, when inheriting dead characters.
Added sanity checks to prevent a pclaim plot corruption bug.
In the event of overlapping Realm Claims, neither Realm's Realm buff will apply, consistent with previously established behaviors for some buffs.
Small Fixes
-----------------------
You can now exit dungeons while carrying something.
Ore mined with a shorter smelting time -- from the miner credo -- now have a tooltip to indicate this.
Wild Dreams now have a tooltip stating their effect.
You can now smash beaver chests.
Improved the beavers' handling of dungeon chokepoints.
Roasting spits now provide bone ash only at halved quality. Wasn't sure where to go with this, but didn't like the kiln'd ash being entirely nullified in the quality race. Feel free to opine.
Using a Roasting Spit -- turning or cleaning -- is now a crime of rummaging.
Forest Lizards should now flee from players.
You no longer get gems from collapsed mine tiles. Reported here.
Fixed a bug by which some gems would have their effects rounded erroneously, sometimes down to zero.

As always, if you liked what we did here: Support the patch.
Today's Patch Item, for the fair price of $10, is the "Freebooter's Slouch".
Store Description wrote:

$10

Sail your Knarr to Tortuga dressed as this freewheeling Freebooter. Guaranteed to make no one look like a slouch!
All Gold subscribers have been awarded the Freebooter's Slouch free of charge.
In the Pipe
-----------------------
Next week's patch will be the last patch of the year before we head out for some rest and recuperation, hopefully to return in January brimming with exciting new ideas for another year of HnH. We have several major projects of our own that we'd like to do as our next big-to-intermediate project -- several new dungeons not least of which -- but let us know where you'd like to see us spending time!
The main dev focus is the client rendering rewrite.
Time to... like us on Facebook?
Enjoy!