We've been developing, and here's what's new.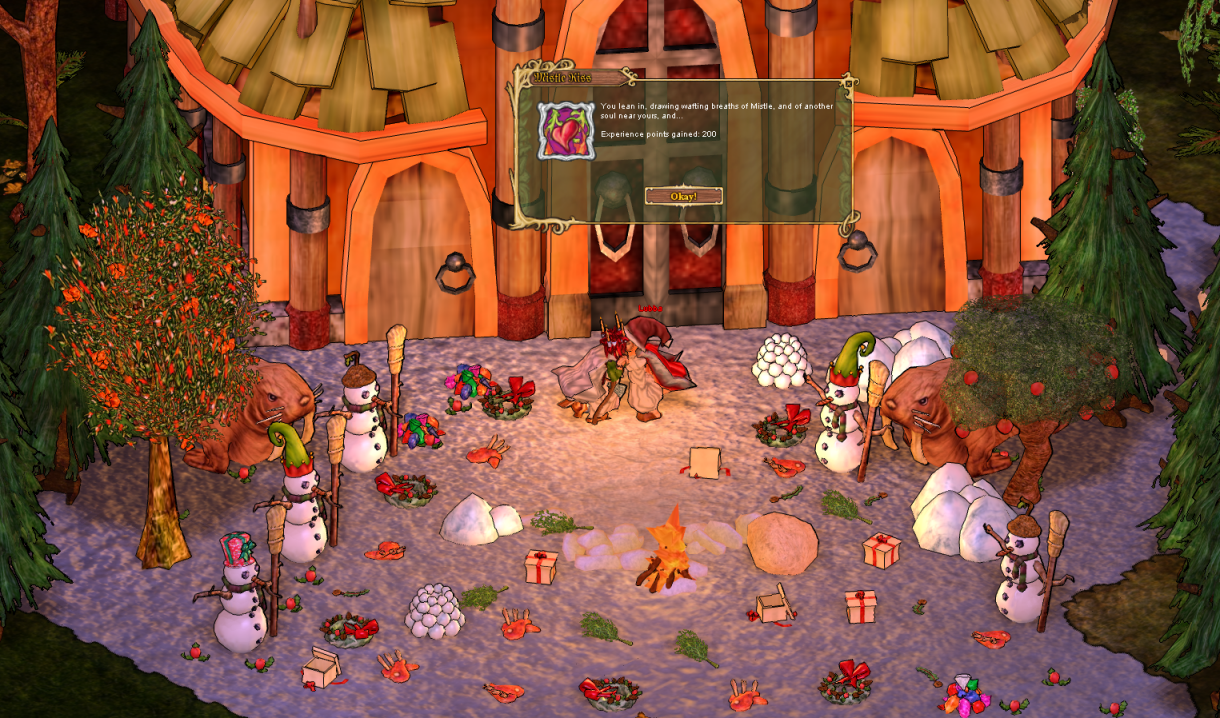 New Implementations
-----------------------
Added support for determining automatic equipment points for trees, and took the opportunity to add... Mistletoe, as suggested here! Mistletoe spawns in some trees, and can be picked, quite simply. Not all tree types can carry mistletoe (yet), and Mistletoe also unfortunately doesn't show on the minimap (yet) for various reasons. Hoping to remedy all that at some point, but equipment points for trees is something we've wanted for a long time, and opens other venues for future developments, like Wild Beehives, Birds' Nests, Wild Hops, &c. Good times!
Added "Snow Lantern", lantern.
Added "Candle Crown", wearable crown with candles.
Added "Yule Wreath", curiosity, decorative.
Added "Marrow Roast", food.
Added "Twig of Spruce", gilding.
Added "Squat", emote.
Added "Lean in and Kiss", emote.
Added "Mistle Kiss", experience.
Key Fixes
-----------------------
Snow will not melt during the holidays.
Yule Gifts have been hidden both with birds and with fish, both high and low.
Small Fixes
-----------------------
Fixed a bug by which saddle bags could sometimes not be opened when a horse died.
Fixed a bug by which Standing Flags were never persistent.
Buffed burn time for Pumpkin Lantern.
Fixed a bug by which Ptarmigan meat could cause negative FEPs when used in recipes. Reported here.

As always, if you liked what we did here: Support the patch.
In the festive spirit of the season, we're throwing in not one, but three new items tonight! So today's Patch Items, for fair prices from $5 to $10 each, are the "Nut Beret", the "Elf's Cap", and the "Package Hat"! If you want to throw us a tip for the year, here's your chance.
Store Description wrote:

$5

If you're nuts for nuts, this hat is the nuts, but watch out for the squirrels!
Store Description wrote:

$10

Santa's Elves are hard at work during this time of year, wrapping candies and gifts for all. Will you be Santa's little helper?
Store Description wrote:

$10

A seasonal opportunity to wrap yourself in the most stylish and luxurious wrapping avaliable. This hat comes pre-packaged!
All Silver subscribers have been awarded the Nut Beret, and all Gold subscribers the Nut Beret and the Elf's Cap, free of charge.
In the Pipe
-----------------------
With this patch we'll be signing off for some restful holidays over Christmas and the New Year, and would of course like to take the opportunity to thank all of you for another great year of H&H! We have had a lot of good developments to look back at over the course of the year -- from walrii, through the push-out mechanic, mannequins, gems, credos, and on to dungeons, with a ton of things big and small tucked inbetween, and a boatload of new animals -- and we have, naturally, our hopes set even higher for the next year, first and foremost with the rendering update. I can't say that the game has really been profitable in the fullest sense of the word -- yet -- but we're definitely hanging in there, development feels meaningful, and we're very grateful for all your support in whatever form it may come. The user numbers have been relatively strong over the year, and it feels great knowing that at least some of you keep track of what we try to do here every week. We will be looking to get back to work on January 2nd, hopefully with a new mission statement for the coming year, but for, now, however... From all of us, to all of you: A very, merry Christmas! I hope you will spend it in love among loved ones, whether in or out of game! Happy New Year!
The main dev focus is the client rendering rewrite.
Time to... like us on Facebook?
Matthew 2 wrote:"When they had heard the king, they departed; and, lo, the star, which they saw in the east, went before them, till it came and stood over where the young child was. When they saw the star, they rejoiced with exceeding great joy."
MERRY CHRISTMAS, AND A HAPPY NEW YEAR!
Enjoy!