We've been developing, and here's what's new.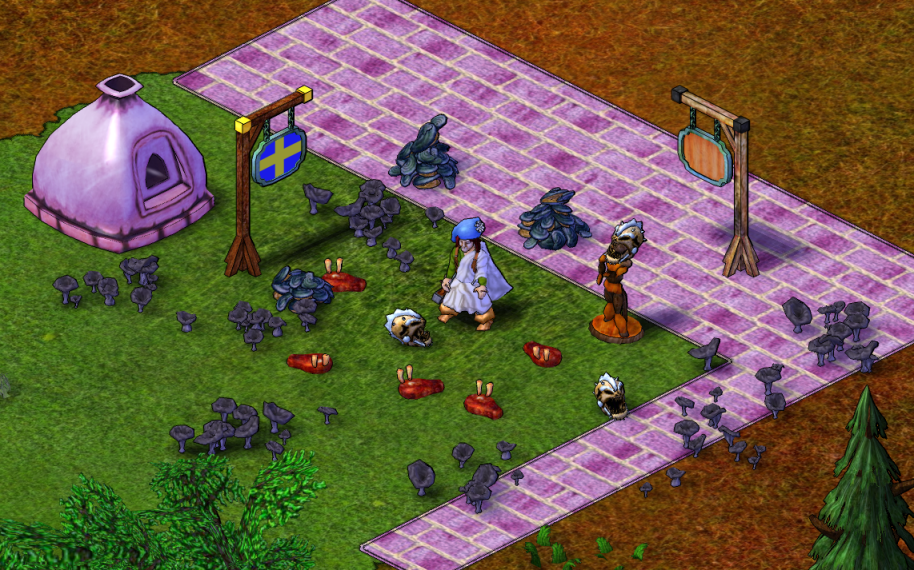 New Implementations
-----------------------
Added "Signboard", suggested here.
Added "Grand Troll Helm", suggested here.
Added "Black Trumpets", mushroom.
Added "Black Ribeye Steak", food.
Added, with infinite capacity, stockpiles for everything... or at least for 50 mussels.
Credos
-----------------------
Potter:

The dead matter of clay springs to life in your hands like in no others, coaxing secret forms to dance into existence from the perpetual void of the primordial before. In the roaring fire of kilns, and in the slow, revolving sound of your wheel, you have heard the calling of such forms, yearning to be made in full, and yours are the hands that shape them, and move the bellows that heave with life and fire. In the crack of a single shard, you can recall the errors of all hearthkin. The world ocean rests in an earthenware dish, fired in the sun by the Old Gods on the first day. Spinning the Potter's Wheel promises...




Masonry +15
Small quality bonus when digging ball clay.
Large quality bonus when digging acre clay.
Chance to harvest more cave, gray, and pit clays.
Ability to make "Potter's Clay".

Potter depends on Farmer.
Key Fixes
-----------------------
Added a beautiful new animation to the flower menues.
Windows should now auto-place themselves in available screenspace.
Swapping wall items should now properly check for appropriate permissions and other allowances.
Village banners, statues and field cairns can now be traversed. Reported here.
Small Fixes
-----------------------
Fixed a bug (reported other places as well) by which Hornblende rock tiles used the argentite texture.
Beast Unborn can now be hung on walls.
Fixed a small crash bug pertaining to the recent combat changes. Reported here.
Reduced sheep hitbox, as suggested here.
You can now feed poppies to animals. Suggested here.
Added Will FEP to Cornucopia. Suggested here.
Animals are now automatically shooed away from opening gates. Suggested here.
Fixed a bug by which sketch pages could not be applied to milling mechanisms or coronation stones.
You may now open a Knarr while on it. Suggested here.

As always, if you liked what we did here: Support the patch.
Today's Patch Item, for the fair price of $10, is the "Highland Bonnet".
Store Description wrote:

$10

If you take the high road, while I take the low, then you'll be in Scotland before me, bonnie in your Highland Bonnet!
All Gold subscribers have been awarded the Highland Bonnet, free of charge.
In the Pipe
-----------------------
The main dev focus is the client rendering rewrite.
We spent most of our time this week on the combat system. Some problems in that directional attacks, upon implementation, seemed a bit too bot friendly to lean on in any extended capacity, as we had somewhat hoped, but we've made some other interesting discoveries, so we're steaming on.
Time to... like us on Facebook?
UPDATE YOUR CLIENTS
... as I'm sure all you custom client developers already have done, since you read
loftar's posts
so diligently, amiright?
Enjoy!