We've been developing, and here's what's new.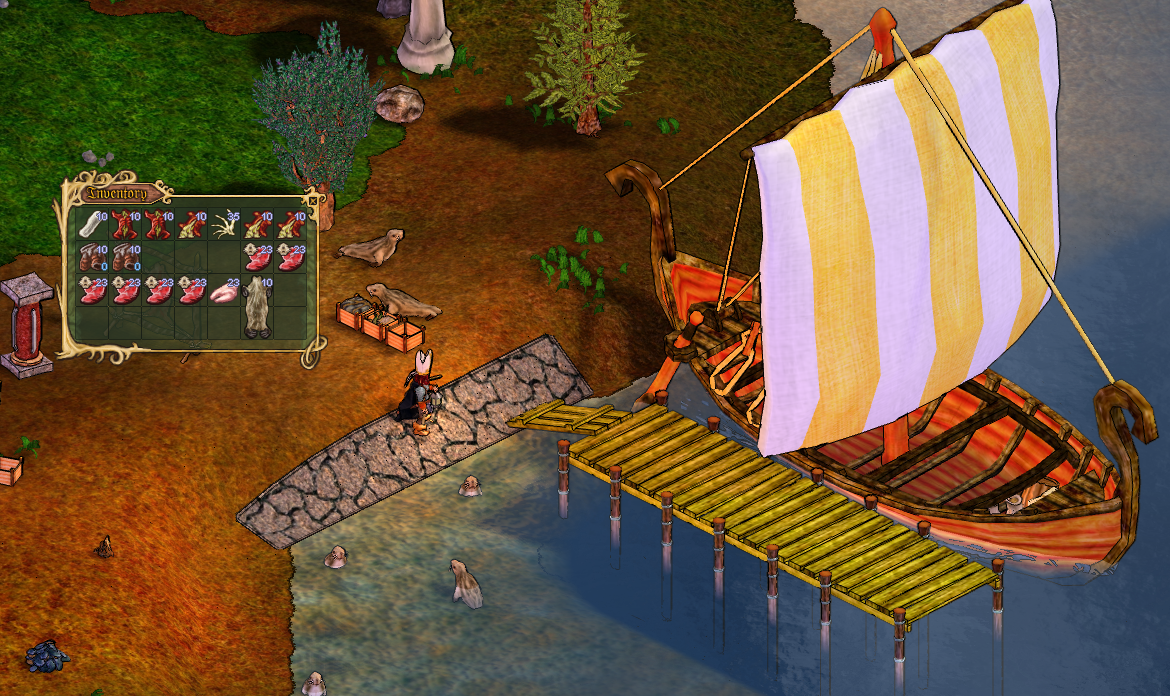 New Implementations
-----------------------
Added "Knarr Dock", structure. Okay, so it sucks that you can't walk on these (yet), and it will be a glorious day when you can, but... While sailing a Knarr, right-click a Knarr Dock to set it as the home dock of the Knarr in question. While piloting the Knarr you may, then, right-click the Knarr, and Sail -- i.e. teleport -- home to your home dock. Awesomness ensues. Suggested here.
Added "Grey Seal", creature. These cutsie-critters swim faster than most, and yield delicious meat. Also some related produce.
Added support for client local action menu buttons, and...
Added toggle to "Display Mining Radii", displays mining radius of all mine supports.
Added toggle to "Display Quality on Items", displays quality on all inventory items.
Added "Wooden Box", small, cheap container.
Added "Laurel-Crowned Roast", food, along with the ability to use small animal carcasses in food recipes. Suggested here.
Added "Mushroom-Burst Glutton", food.
Added "Lizard on Scales", food. Prompted by this.
Added "Tallow Candle", candle.
Added a sweet new wound.
Key Fixes
-----------------------
Made it so that, for villages only, whenever you add trespassing permissions to a permissions group, a timestamp is set. Anyone who logged out on the claim before that timestamp will be unable to log back in again, and forced to Hearth. This to create the ability to evict persons logged out on a village claim.
Made it so that you may keep the UIs for domestic animals open while you still have the animal within view. While the UI of an animal is open, the name of it will be displayed above it as well.
Turned off winter time. Snow now melts again.
Small Fixes
-----------------------
Skills: Fishing, Hunting, Stone Working and Pottery now depend on Foraging. Baking now depends on Farming and Pottery. Sewing now depends on Farming. Hearth Magic now depends on the Will to Power. Locks & Bolts now depends on Carpentry and Yeomanry.
Nerfed Escargots d'Amour and Glass Marbles.
You can now click seed icons in the granary to take from that slot.
Made lantern stands liftable.
Fixed the bug by which Gandalf had dropped his cape pose in the character creation room.
Hotkeys in action menu submenus now apply over all the pages of the submenu.
Back and forth buttons in action menu now have tooltips.
Gave a small buff to Nine-Tails.
Fixed a small typo.
Chef's hat now requires any flour, rather than barley flour specifically. Reported here.
Fixed a bug by which the ancestors would ask for 4k Balls (store item).
You may now inspect an animal being tamed to see how tame it currently is. Suggested here.
You can now see your total XP on the account/character page. Suggested here, in 2015.
The Butcher's Cleaver now significantly speeds up slaughtering of animals. Suggested here.
Fixed a bug with caracasses sometimes not rendering on roast spits.

As always, if you liked what we did here: Support the patch.
Today's Patch Item, for the fair price of $10, is the "Bishop's Mitre".
Store Description wrote:

$10

Take the broad path to a bishopric to call your own with this stylish mitre. A little simony never hurt anyone, right?
No one has received the Bishop's Mitre free of charge.
In the Pipe
-----------------------
UPDATE YOUR CLIENTS
... if you want the local menu items to work.
Enjoy!