We've been developing, and here's what's new.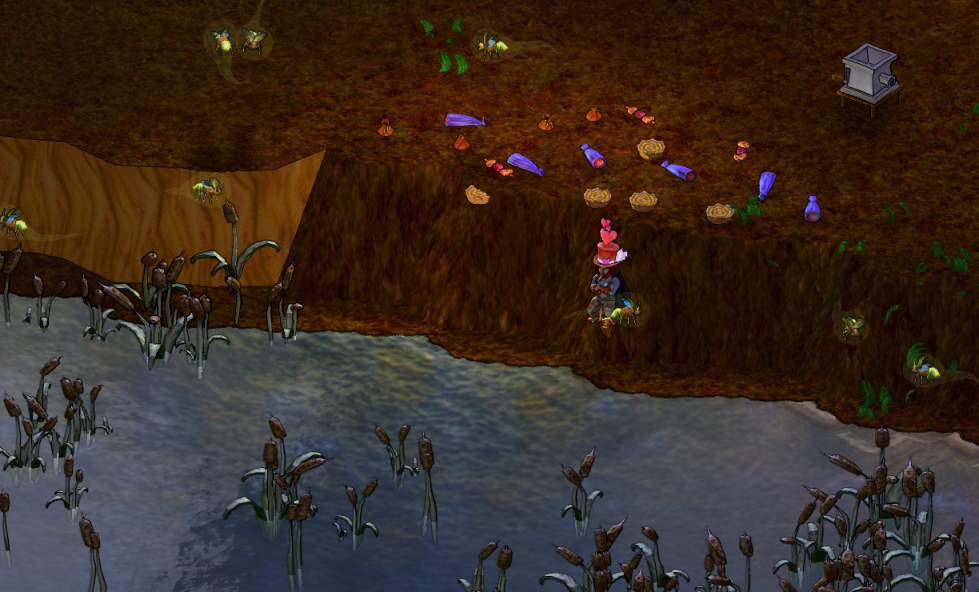 New Implementations
-----------------------
Added zoom functionality to the ingame map. You can now zoom with the mousewheel, and hide/show all markers with the 'M' button. Ideally we suppose there should be better options here for categorizing and selectively displaying information, but we're not entirely sure on the whats and the hows yet, so we're intentionally leaving this a bit raw to avoid wasting time on UI that we'll have to redo anyway. There are also some problems with updating zoom levels when discovering new tiles, but worst case a relog should fix any problems.
Added "Firefly", nightly buzzer. Suggested here.
Added "Steppe Dance", emote.
Added "Two-Bird Skewer", food. Kind of suggested here.
Added "Shepherd's Pie", pie.
Added "Lamb & Lynx", sausage.
Added "Druid's Ring", suggested here.
Key Fixes
-----------------------
Added a quaking effect to collapsing beaver dams. Will expand further on their death sequence.
Small Fixes
-----------------------
Boats, wheelbarrows and coracles now count their last carrier as a rightful owner.
You can no longer ride while using roasting spits, extraction presses or cauldrons. Reported here, among other places. Also hopefully fixed the report in the same topic about landing a Knarr on land.
Food items crafted from either of the wild or domestic versions of mutton, pork, beef, and horse meat, should now use the corresponding food buffs from whatever they were actually crafted from. Suggested here. Also, in conjunction with this, gave all domestic meat crafting buffs significant buffs, at least in terms of total FEPs given.
Fixed a recently introduced bug by which grass planting had stopped working.
Fixed a typo.
Fixed a small bug with the steel crucibles giving an erroneous error message when spamming them with fuel.
Morels can now be picked with a picking basket. Reported here.
Fixed a bug by which animal interfaces would be closed when the animal lost sight of anyone, rather than by the person viewing it.
Gave Strawhat a bit of the old bonus to Farming back. Gave Fox Hat a small Int and Exploration bonus, and gave it Exploration affinity for gilding.
You can now shift-click to peer into dungeons, as you would other doors. Reported here.
Cellar & burrow tiles should no longer have transitions against the surrounding darkness, but rather straight borders.

As always, if you liked what we did here: Support the patch.
Today's Patch Item, for the fair price of $10, is "Valentine's Cylinder".
Store Description wrote:

$10

Amp up the lovemaking mood of any situation with this seductive cylinder, guaranteed to make your significant others swoon!
All Gold subscribers have been awarded Valentine's Cylinder, free of charge.
In the Pipe
-----------------------
Enjoy!