We've been developing, and here's what's new.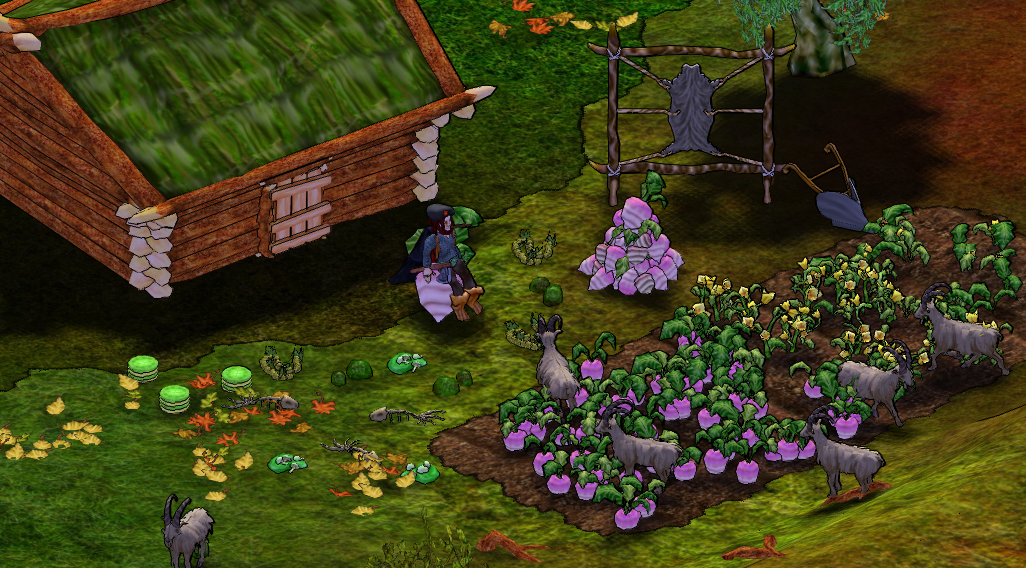 New Implementations
-----------------------
Implemented a mechanic by which map regions which have been unloaded for some time will experience increased decay until they have "caught up" to whatever amount of decay they should have received in the time they weren't loaded. The effect should be that decay, at least over time, is a function of time, and not of the map's staus as being loaded or not. Nagged about to no end by this guy.
Added "Wildgoat", territorial kritter roaming mostly in the mountains. You can't domesticate these yet, but the ambition is that you will be able to.
Added "Turnip", crop, tuber. Buffed by "Backwater" realm blessing.
Added "Deep Sea Atavism", curiosity. Suggested here.
Added "Mushrooms in Jelly", food.
Added "Jelly Cake", food.
Added "Hop Jellies", food, candy.
Added "Hop Garland", symbel item. Also made all garlands wall items.
Key Fixes
-----------------------
You now always receive a visitor debuff when spawning from charter stones or wilderness beacons on claims.
Nidbanes should no longer steal the skulls of the dead if they haven't done the killing themselves.
Small Fixes
-----------------------
You can no longer use Commune with Nature if you have a bunch of quests already, but if you do use it, you will always get a follow up quest from the greet quest you then get. Complained about in PM.
You can now, as a crime, or with permissions, claim a study desk. Discussed here.
Cracking ageless ice should now also refill your Study Report from your study desk.
Probably fixed a bug by which the Fishing interface would sometimes be unresponsive.
Heads of lettuce should now drop to the ground when harvested. Reported here.
Added a subpage in the action menu for lures, and gave all lures hotkeys, fixing this.
Gave leather purses an explicit drop timer, hopefully fixing this.
Fixed a typo by which the realm blessing "Backwater", rather than "Marriage of the Sea", gave a bonus to fishing.
Horse foodbuff made slightly worse to differentiate it more from the Beef foodbuff.
Slightly increased the effective bounding box of leather balls when playing with them. All puns intended.
Knarrs now run over Swans. Suggested here.
Moved "Fat-Braised Veg" to "Garden Greens". Suggested here.
Changed the draw order when the character looks for items to prioritize open containers, equipment, and inventory, in that order. This to make it so that you don't always use up your drinking water first when crafting from an open water barrel, or the like. Suggested here. Feel free to report if you experience negative side-effects of this.
Added Combat discoveries to all fighting animals missing them. Otters, adders, seals, & a couple of others.
You may now "Giddyup" on horses you have leashed. Suggested here.
If you have a rope in your inventory, you will now automatically leash horses when dismounting.
Made it so that quests succeed if they for some reason cannot be properly restored. Hopefully fixing this.

As always, if you liked what we did here: Support the patch.
Today's Patch Item, for the fair price of $10, is "Che's Beret".
Store Description wrote:

$10

Hola-la, you wild-eyed revolutionary Adonis among men. ¡Hasta la victoria siempre, Commandante!
All Gold & Silver subscribers have been awarded Che's Beret, free of charge.
In the Pipe
-----------------------
Enjoy!