We've been developing, and here's what's new.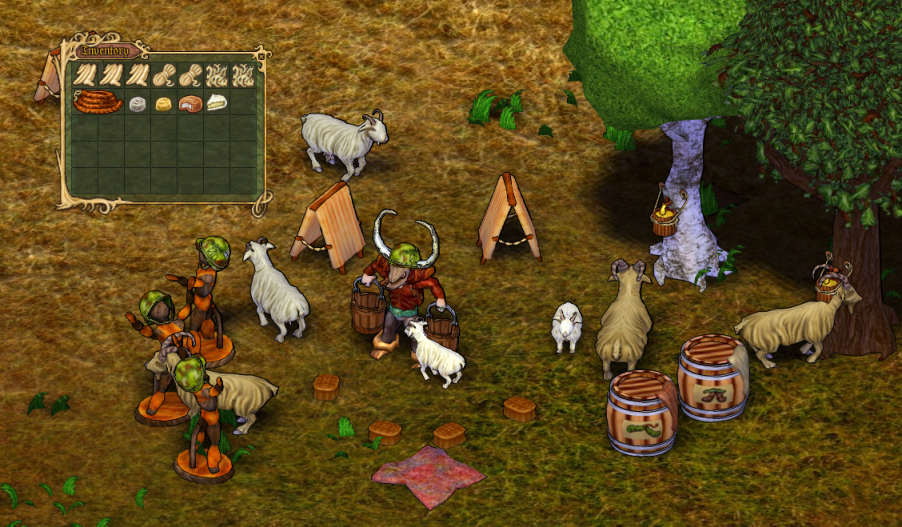 New Implementations
-----------------------
Domestic Goats. Wildgoats can now be seduced with clover, roped, and domesticated, much like sheep, pigs, and cows. Goats come as Billies, Nannies and Kids, have wool and cloth types of their own, along with unique milk, and a whole set of 12 cheeses to go with that. Fun!
Added "Sap Tap", the Sap Tap can be attached to Birches and Maples -- hold and right-click -- and then draws Birch & Maple sap from the tree over time. The Birch & Maple saps belong, along with Honey, to a broader category "Sweetener", which some recipes now use where previously they used only honey. Honey is generally better than sap, but all are also different.
Added public realm chats to all realms. Each realm will now have a public chat, distinguished from the previously existing members' chat by a (P) appended to the realm name. Any person within the Realm may chat in the public realm chat, using their presentation name as their alias. Any person with kicking priviliges in the realm can ban people from the public chat, by simply typing "/ban NAME X 4s/m/h/d", up to a maximum of 75 days. Thus, typing "/ban jorb 4s" would ban me from the realm chat for four seconds. Similarily, you may unban someone banned by simply typing "/unban NAME", and you may also rename someone in the context of the public chat with "/rename NAME NEWNAME". There is a burst limit to how often you may spam the chat. For now, the public realm chats will not give new message notifications, to prevent them lighting up like christmas trees every time you're in a realm. There's a lot we could improve on here, but perhaps it's a start. Might be controversial, for that matter!
Added "Foldup Sign", sign, can use sketches.
Added "Mammoth Guard", armor, suggested here.
Added "Marrow Cake", food.
Added "Mohair Monogram", gilding.
Key Fixes
-----------------------
A small lasso icon over ropes now indicates that they are presently being used to leash an animal. You may also unleash from ropes by right-clicking the rope. Suggested here, among other places.
Small Fixes
-----------------------
Cheeses should now have input types.

As always, if you liked what we did here: Support the patch.
Today's Patch Item, for the fair price of $10, is the "Full Metal Helmet", suggested
here
.
Store Description wrote:

$10

Born to kill! Be the first one on the block, to get your boy home in a box, decked out in this pithy Full Metal Helmet!
All Gold subscribers have been awarded the Full Metal Helmet, free of charge.
In the Pipe
-----------------------
Enjoy!