We've been developing, and here's what's new.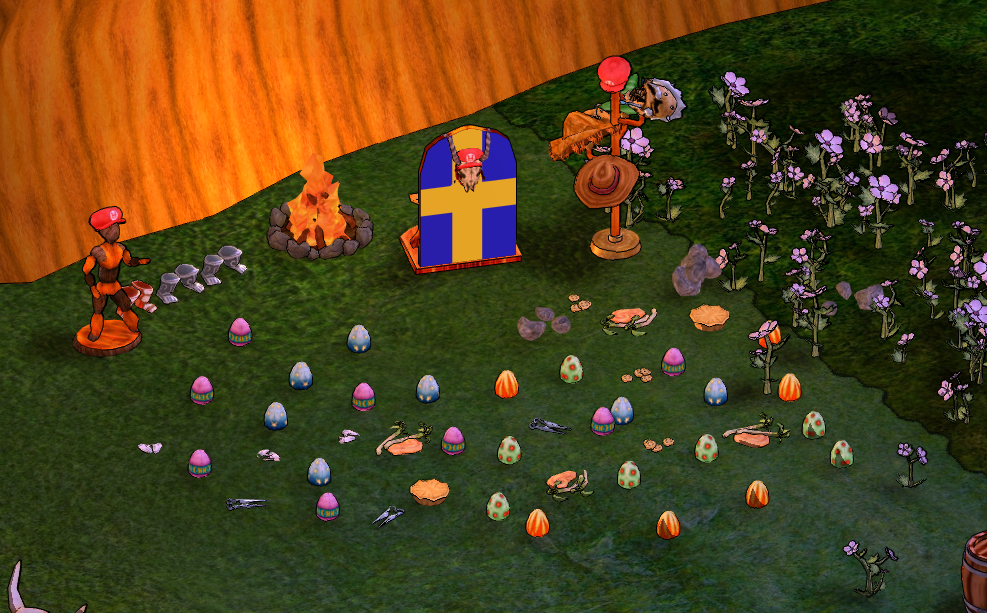 New Implementations
-----------------------
Added "Easter Eggs", curiosity. Suggested here. You can craft these, but rumor has it that certain furry forest friends have taken to seasonally drop them as well.
Added "Face Cutout Standee", nonsense. Suggested here.
Added "Hatrack", nonsense. Suggested here. You can hang your hats on these.
Added "Shears", tool for cutting wool faster. Suggested here, here, here, and here. Thank you for your liberal use of the forum search function.
Added "Plate Boots", armored boots.
Added "Armored Striders", armored boots. Suggested here.
Added "Billygoat Horn", curiosity. Suggested here.
Added "Marsh-Mallow", forageable, flower, food, salad. Suggested here.
Added "Leeky Fowl", food. Suggested in PM.
Added "Poultry Pot Pie", food. Suggested here.
Added "Fishballs", food. Suggested here.
Added "Silk Gloves", clothing. Suggested here.
Added "Moose Antler Buttons", gilding.
Added a new wound. Suggested.
Key Fixes
-----------------------
You now heal SHP while sleeping in a bed. This still costs energy, but ignores the Healing level, so you will heal regardless of how much energy you have.
Small Fixes
-----------------------
Fixed a small graphics bug in the Stone casket's update function.
You can now use sketches on house doors indoors. Apparently this never worked. Reported here.
Changed the input order for flipper bones versus normal bones in the "Deep Sea Atavism" recipe, hopefully alleviating this and this.
Fixed a minor text issue.
Added a dream to the crafting recipe of Enthroned Toads, to make them somewhat easier to increase in quality, and also buffed their base LP a bit. Suggested here.
Fixed a couple of issues with Ancestor requests. Gold/silver coins should now always be accepted. The ancestors should not ask for Cutblades. Branding Irons now have quality. The ancestors should no longer ask for Gilding Rocks or Gilding Leaves.
Shelves can now be used to receive payment from barter stands. Reported in PM.
You should now inherit branded animals. Reported here.
Fixed a small bug in that you could, when lure fishing, sometimes lose your line without losing your lure and hook.
Road extension now crime checks upon placing, rather than on clicking "Extend", suggested in PM.

As always, if you liked what we did here: Support the patch.
Today's Patch Item, for the fair price of $10, is the "Plumber's Cap". Suggested
here
.
Store Description wrote:

$10

It's-a me! ... keeping your head clean when dodging in and out of pipes and castles.
All Gold subscribers have been awarded the Plumber's Cap, free of charge.
In the Pipe
-----------------------
Enjoy!