We've been developing, and here's what's new.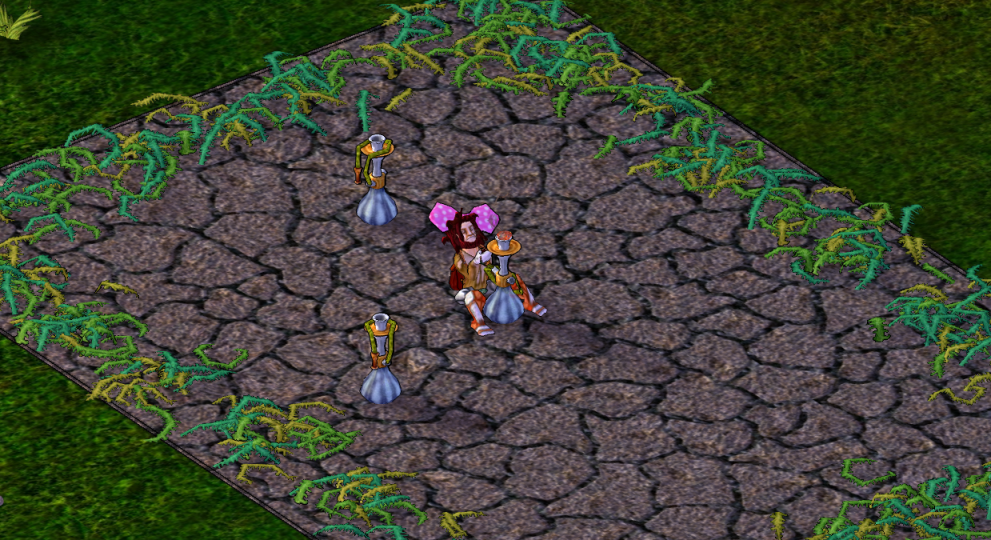 New Implementations
-----------------------
Added "Hookah", a big fat pipe to sit down by for all your narcotic needs.
Paved tiles now decay by being overgrown with vines. If decay hits a paved tile, without an active claim, bordering a natural tile, or bordering another tile with vines already on it, vines may start growing over the hit tile. Further decay hits to tiles with vines will cause the vines to grow, until, finally, with the fourth hit, the paving, and the vines growing over it, are removed, decaying to a bordering natural tile. The effect in total being that paving decay of a large paved area starts around the edges and gradually corrodes its way into the center of the area. Suggested plenty, but among other places here.
Un-Jesusified animals. Animals should now have a proper height offset applied when in water, appearing to walk on the lake bed, rather than on the water. Do note that this may make some animals hard or impossible to click when in water. You can still use the minimap. Suggested here among many places.
Key Fixes
-----------------------
You can now put objects into object carriers when you are the last carrier of the object you are putting in, solving the problem that you previously couldn't unload your chests under a visitor debuff and then put them back in again.
Small Fixes
-----------------------
Improved the UI for roads. They open instantly, and with an up to date client you have hotkeys for the options in the road UI.
Fixed a problem by which you could get caveins over water tiles.
Added a minor offset to make it easier to pick some herbs spawning close to objects.

As always, if you liked what we did here: Support the patch.
Today's Patch Item, for the fair price of $10, is the "Pink Bow", suggested
here
.
Store Description wrote:

$10

Watch all the world bow before your obvious sense of grace and style, when dolled up with this pretty Pink Bow!
All Gold & Silver subscribers have been awarded the Pink Bow, free of charge.
In the Pipe
-----------------------
Enjoy!