We've been developing, and here's what's new.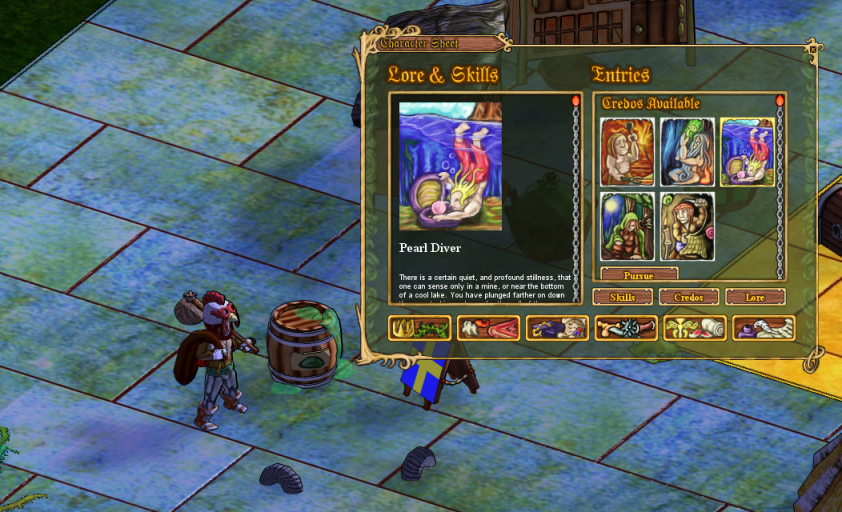 New Implementations
-----------------------
Added "Wanderer's Bindle", lower tech replacement for traveler's sacks. Carrying one in the right hand gives an extra row of inventory space, and carrying one in the left hand gives an extra column. Suggested here.
Remade Cave Slime into a substance, rather than simply an item. You can now store it in barrels, buckets, &c. You get varying amounts from the slimes. It's effect qua curio or food scales with how much you keep in a single item of it, much like with the Cave Dust.
Added "Slinky", curiosity.
Credos
-----------------------
Pearl Diver:

There is a certain quiet, and profound stillness, that one can sense only in a mine, or near the bottom of a cool lake. You have plunged farther on down than most, driven always by the call of those rare, precious, lights, which illuminate the everdarks of the Hearth, but lately visions of especially rare baubles have begun ocurring to you -- gnawing at you, like grains of sand lodged in the iridescence of your mind -- and you have begun testing the waters to find the secret places of which the mussels whisper. The night sky was cut, by the Gods, from nacre grown in the river of time. Drawing the Pearl Diver's Breath promises...




Constitution +10
Halved asphyxiation damage when drowning.
Significant quality bonus when picking mussels.
Increased speed when swimming.
Significantly increased chances of finding pearls.

Pearl Diver depends on Fisherman and Gem Hunter.
Key Fixes
-----------------------
Fixed a bug by which you could wall jump when exiting dungeons.
Small Fixes
-----------------------
Fixed a bug by which water offsets to animals were not always cleared properly.
Fixed a bug in the implementation of quests to catch small animals by which such quests always asked for the first animal type in their respective list.
Hopefully fixed a bug by which custom graphics were mirrored on Foldup signs.

As always, if you liked what we did here: Support the patch.
Today's Patch Item, for the fair price of $10, is the "Chicken Hat", suggested
here
.
Store Description wrote:

$10

Pkaw! Don't lay all your eggs in one basket, but rather diversify your hat holdings with this eggcellent Chicken Hat!
All Gold subscribers have been awarded the Chicken Hat, free of charge.
In the Pipe
-----------------------
Enjoy!