We've been developing, and here's what's new.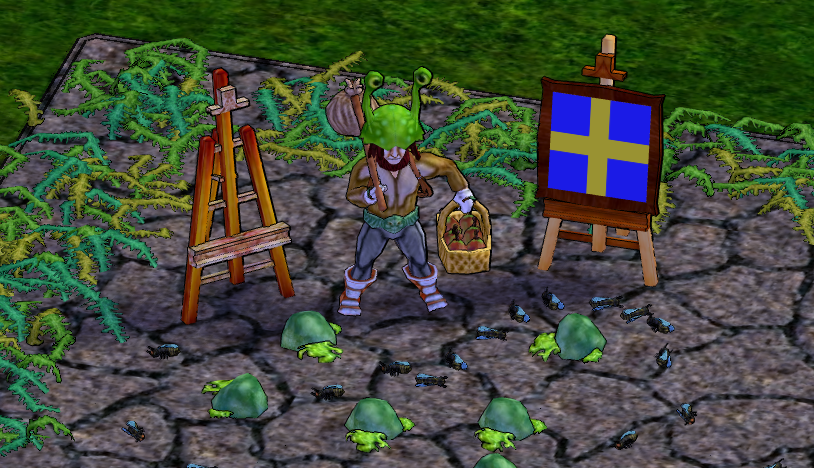 New Implementations
-----------------------
Added "Easel", can be used to decoratively display paintings. Suggested here.
Added "Beesting", wound.
Key Fixes
-----------------------
May have fixed a problem by which it was possible to jump down into black nil-tiles (evidenced in Bat Dungeons). May have unforseen consequences, so be on the lookout for such when climbing ridges.
Small Fixes
-----------------------
Made it so that Commune with Nature no longer increases its search distance the more total quest points you have. It should now generally contact quest givers close to you. Reported here.
Fixed a bug by which Pearl Diver quests would sometimes ask for obscene amounts (several K) of mussels. This fix will not affect already existing such quests.
Changed Wicker Picker from requiring straw twine to requiring branches. Suggested here.
Made it so that you can boil water from snow. Oddly, this only works while there is some water already in the cauldron, but, oh well. Snow which melts naturally also gives water if it's in a cauldron when that happens.
Made it so that you keep chipping boulders even with a full inventory. Suggested here.
Grapes now count as fruit and berry. Reported here.
You can now use right and left keyboard arrows while holding Shift or Ctrl+Shift to rotate objects during placement. Suggested here.

As always, if you liked what we did here: Support the patch.
Today's Patch Item, for the fair price of $10, is the "Martian's Hat".
Store Description wrote:

$10

Hello, Hearthfriend, we come in peace! Fear not, but rather put this green, slimy scalphugger on and over your head!
All Gold & Silver subscribers have been awarded the Martian's Hat, free of charge. Yes, the eyestalks are animated.
In the Pipe
-----------------------
Enjoy!