We've been developing, and here's what's new.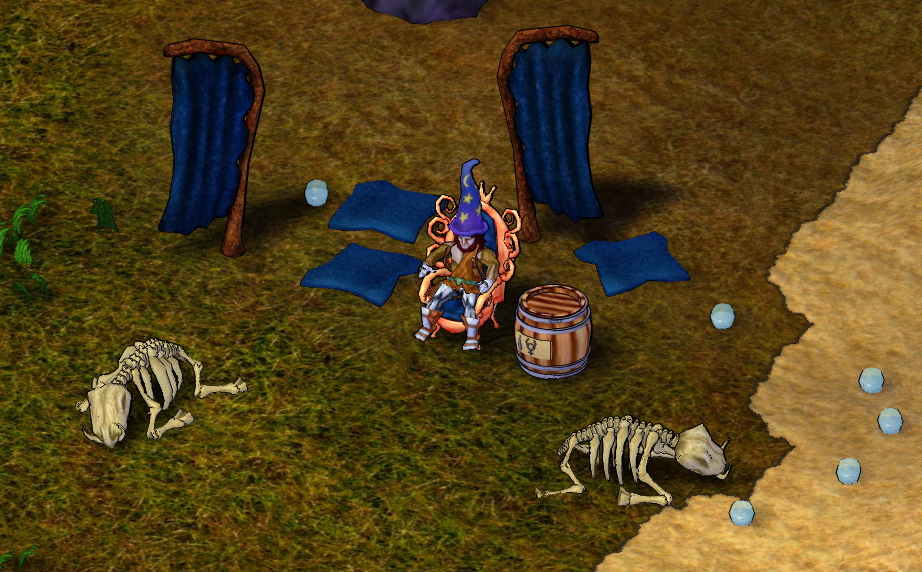 New Implementations
-----------------------
You may now logout on (domesticated) horseback, or in a coracle, and the horse or coracle will logout with you. Do note that the horse will still grow hungry as per usual when logged out.
Added "Quicksilver". Liquid metal acquired by smelting Cinnabar.
Added "Felt", cloth made from hides and Quicksilver -- no use other than as variable material right now. Will add.
Added "Quicksilver Globe", curiosity.
Added/Re-added Boar Skeletons. Boars now leave an actual skeleton behind when butchered, which can then be disassembled to bones, as it was in Legacy. Will chip away at giving other animals the same courtesy.
Key Fixes
-----------------------
Reworked the farming speed bonus implemented in the last patch, and moved it from the tile grown on, to the seeds harvested. Essentially plants will have some extra growth speed depending on how long they stood in the last growth stage. The basic idea still being to make you less incentivized to harvest and replant the same instant the crop matures, affording you some slack in waiting a while without losing growth speed. Same idea as last time, but this formulation avoids some problems that the first iteration had.
You can no longer place account bound items (i.e. store hats) on barter stands. Reported here.
Small Fixes
-----------------------
You can now craft directly into barrels when crafting things like wort, rennet, &c.

As always, if you liked what we did here: Support the patch.
Today's Patch Item, for the fair price of $10, is the "Astrologer's Cone".
Store Description wrote:

$10

The stars have foretold a wicked awesome new hat in the threads of your near future fate.
All Gold subscribers have been awarded the Astrologer's Cone, free of charge.
In the Pipe
-----------------------
Enjoy!